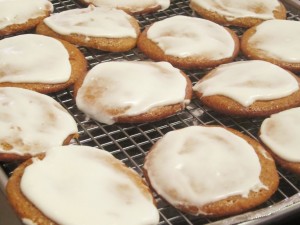 They are world-famous and inseparably tied to Christmas – Nuremberg Lebkuchen or gingerbread. These internationally-known delicacies were first baked by Franconian monks, who created these sweet baked goods as early as the 14th century.
Ingredients:
For the cookies:
3 cups all-purpose flour, plus extra for kneading
1¼ teaspoons ground nutmeg
1¼ teaspoons ground cinnamon
½ teaspoon ground cloves
½ teaspoon ground allspice
1 egg
¾ cup light brown sugar
½ cup honey
½ cup molasses
For the glaze:
1 cup confectioner's sugar
2 tablespoons water
1 tablespoon lemon juice
Preparation:
1. Preheat the oven to 350°F. Grease two baking sheets or line them with parchment paper.
2. Sift together the flour, nutmeg, cinnamon, cloves and allspice. Set aside.
3. Beat the egg and sugar together on medium speed until light and fluffy, about 2 minutes.
4. Beat in the honey and molasses until thoroughly combined.
5. On low speed, stir in the flour mixture until just combined.
6. Turn the dough out from the bowl onto a well-floured surface. Knead the dough, adding more flour as needed, until a stiff dough is formed.
7. Wrap the dough in plastic wrap and chill until firm, about 2 hours or overnight.
8. On a well-floured surface, roll out the dough into a 9×12-inch rectangle. Cut the dough into 18 3×2-inch rectangles. Bake for 10-12 minutes.
9. Transfer the cookies to a wire rack and let cool. Whisk together the confectioner's sugar, water and lemon juice and brush or spread on top of the cookies.
10. Allow the glaze to firm, and then store the cookies in an airtight container at room temperature.
Related article:
Lebkuchen – German Gingerbread Recipe
Nuremberg Lebkuchen: A Traditional German Treat