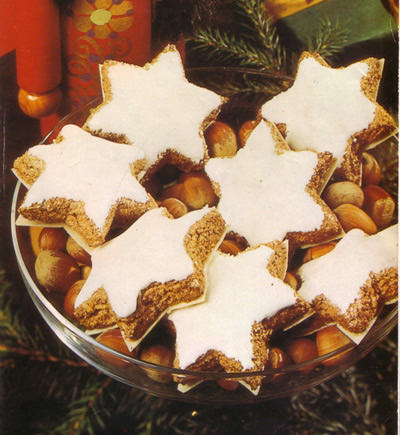 Zimtsterne (cinnamon stars) are maybe THE traditional German Christmas cookies. Everyone loves these little treats.
Ingredients:
4 egg whites
250 g powdered sugar
300 g almond flour
1 tsp cinnamon
peel of 1/2 lemon
rum flavor (or brown rum)
optional: rectangle-shaped baking wafers
Preparation:
Beat egg white until very firm and slowly add powdered sugar, put 1/4 aside for the glaze.
Mix ground almond, cinnamon and lemon peel with the egg white. You should get the kind of dough that you can roll out.
Dust some powdered sugar on a baking board, roll the dough and cut out stars with a star cookie cutter. Optional: place the stars on a rectangle wafer and cut around the edges with a sharp knife.
Put the stars on a baking tray laid out with parchment paper or a buttered surface.
Preheat oven to 140-160 degrees C (320 F)
Take the remaining egg white and add some rum flavor (or if you like real brown rum) until you get a glaze which you can spread on top of the stars but not too thick, just  a thin layer.
Bake the stars for 30-40 minutes.