April 16, 1817
Birth of Martin Rudolph von Delbrück in Berlin, Germany. He forged the Prussian free-trade policy in cooperation with Otto von Bismark and was instrumental in convincing the southern German states to join the empire in 1870-71.
April 16, 1820
Birth of Georg Curtius in Lübeck, Germany. Curtius was a scholar of Greek language. He was a professor of classics at the universities of Prague, Kiel and Leipzig. His most noted work was, Grundzüge der griechischen Etymologie.

April 16, 1823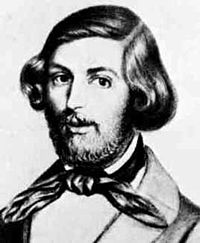 Birth of Ferdinand Gotthold Eisenstein (1823-1852) in Berlin, Germany. Eisenstein was a professor of mathematics at the University of Berlin. Eisenstein's work led to theorems for quadratic and biquadratic residues, a reciprocity theorem for cubic residues, cyclotomy and quadratic partition of prime numbers. In 1848 Eisenstein was imprisoned briefly by the Prussian army for his revolutionary activities in Berlin. Eisenstein always had republican sympathies, and while he did not actively participate in the revolution of 1848, he was arrested on 19 March of that year. Although he was released just one day later, the harsh treatment he suffered damaged his already delicate health. He died of tuberculosis at the age of 29.
April 16, 1831
Heinrich Seuse is canonized a saint. Born on March 21, 1295: Heinrich Seuse (also spelled Suso in some texts) (original name Heinrich von Berg) in Konstanz, Germany. Seuse, a Dominican, was one of the outstanding mystics in German religious history. He studied under another great mystic, Meister Eckehart in Cologne. He came under criticism and attack when he held to the positions of Meister Eckehart even when Eckehart was condemned by the Pope in 1329. Seuse's most influential and lasting work is Büchlein der ewigen Weisheit (1328). Seuse was beatified by Pope Gregory XVI in 1831.
April 16, 1871
The constitution of the new German Empire (under Kaiser Wilhelm of Prussia) is established.
April 16, 1886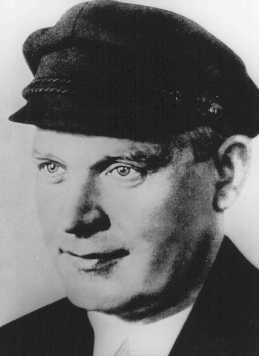 Birth of Ernst Thälmann in Hamburg, Germany. Thälmann joined the communist party in 1920. He ran for president of the Weimar Republic in 1925 and 1932 against Paul von Hindenburg. When Hitler came to power in 1933 he began attacks on the Communist Party at once. Thälmann was arrested on March 3, 1933 and was executed in the camp at Buchenwald in August of 1944.
April 16, 1927
Joseph Ratzinger was born on April 16, 1927 in Marktl am Inn, Germany. He was ordained a priest on June 29, 1951. He was an advisor to the Archbishop of Cologne, Cardinal Joseph Frings at the second Vatican Council. Pope Paul VI named him Archbishop of Munich and Freising on March 24, 1977. On June 27, 1977 he was made a cardinal. In 1981 Pope John-Paul II named him Prefect of the Congregation for the Doctrine of the Faith, President of the Pontifical Biblical Commission and President of the International Theological Commission.
April 16, 1948
The OEEC is founded. The Organization for Economic Co-operation and Development is an intergovernmental economic organization with 35 member countries, founded in 1961 to stimulate economic progress and world trade.
April 16, 1991
The Skoda automobile company (Czech Republic) is acquired by Volkswagen.
Back to Today in German History Calendar