January 19 – feast day of St. Agricius von Trier (ca. 260 – ca. 329)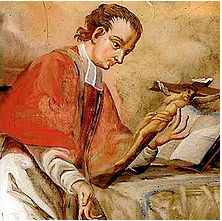 Tradition relates that Agricius had been the Patriarch of Antioch and was sent to Trier, Germany by Pope Sylvester at the specific request of St. Helena (mother of the Emperor Constantine the Great, who ruled from Trier). He became the Bishop of Trier. Some legends have it that it was he who brought the relics of the Apostle, Matthias and Christ's robe to the Trier. (Those relics are still today held in the cathedral in Trier and in the Church of St. Matthias.) Agricius's recognition as a saint predates the practice of formal canonization by a pope. His feast day is January 19. Excavations have demonstrated that it was during the lifetime of Agricius that the imperial palace was converted to the Cathedral of Trier. (Materials from the building during the residence of Helena there and the reign of Constantine may be seen today in the Bishop's Museum in Trier.)
January 19, 1576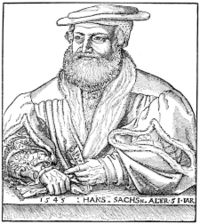 Death of Hans Sachs in Nürnberg, Germany. Sachs was the greatest of the "Meistersinger". He became the star of Richard Wagner's opera Die Meistersinger von Nürnberg. He wrote over 4,000 songs as well as plays. Noted among his works are Die Wittembergisch Nachtigall (in praise of Martin Luther), and Der farent Schüler im Paradeis (1550).

January 19, 1747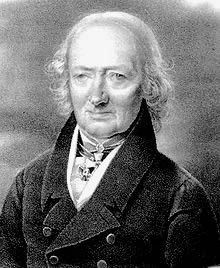 Birth of Johann Elert Bode in Hamburg, Germany. Bode was an astronomer, the director of the Berlin Observatory. Through his enunciation of observations made by Daniel Titius, the law of mathematical expression of the relative mean distances between the relative mean distance from the sun to the planets became known as Bode's Law.
January 19, 1874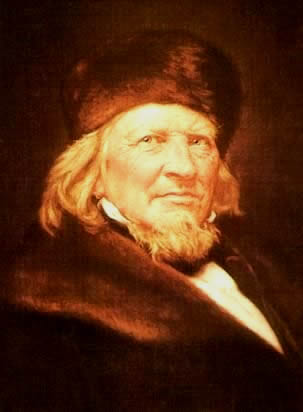 Death of August Heinrich Hoffmann von Fallersleben near Höxter, Germany. Fallersleben was a poet who gained lasting recognition as the author of the lyrics of Germany's national anthem. Fallersleben wrote "Deutschland, Deutschland über alles" in 1841 (music from a theme by Haydn). The second verse of the original is currently the German national anthem:
"Einigkeit und Recht und Freiheit für das deutsche Vaterland!
Danach lasst uns alle streben brüderlich mit Herz und Hand!
Einigkeit und Recht und Freiheit sind des Glückes Unterpfand.
Blüh im Glanze dieses Glueckes, blühe deutsches Vaterland!"
January 19, 1863
Birth of Werner Sombart in Ermsleben, Germany. Sombart was a professor of economics at the universities of Breslau and Berlin. His economics were at various times colored by Marxism, anti-Marxism, and Nazi theories.
January 19, 1915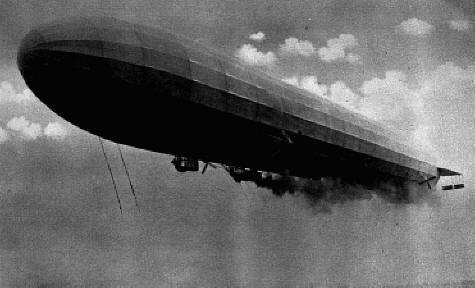 On the morning of January 19th 1915 two German Zeppelin airships, the L3 and L4 took off from Fuhlsbüttel in Germany. Both airships carried 30 hours worth of fuel, 8 bombs and 25 incendiary devices. They had been given permission by the Emperor Wilhelm II to attack military and industrial buildings. The Emperor had forbidden an attack on London due to concern for the Royal family to whom he was related.
The air war against Britain began in WWI as Zeppelin dirigibles started a bombing campaign against Britain. There would be 18 additional attacks in 1915.
January 19, 1919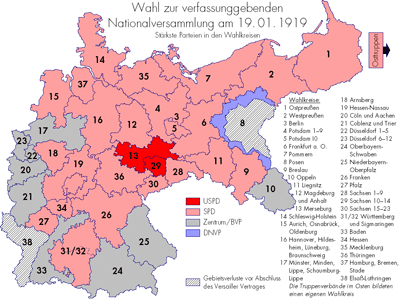 First election of the Weimar Republic. For the first time women have the vote. It is also considered the first truly free and fair all-German election, as it was the first to be held after the scrapping of the old constituencies that grossly over-represented rural areas. The voting age was lowered to 20 from 25 in the last Reichstag election of 1912. Social Democratic Party (SPD) won the election.
January 19, 1985
Death of Eric Voegelin in Stanford, California (born in Cologne, Germany). Voegelin was a philosopher of history who sought to establish a comprehensive philosophy of man, society and history. He was educated at the University of Vienna and then became a professor there. Fleeing the Nazis he came to the United States where he taught at Harvard University, Bennington College, the University of Alabama and Louisiana State University. After the war he returned to Europe and taught at the University of Munich.
Back to Today in German History Calendar