January 28, 814 – Feast Day of St. Karl der Große (Charlemagne) (ca. 742-814)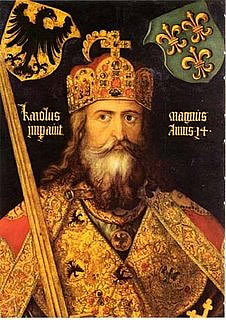 Karl der Große or Charlemagne  was the king of the Franks. (The Franks were a Germanic people who had extended their influence over parts of modern France and Belgium by this date in history.) On Christmas day of the year 800 he was crowned emperor of an empire which would become known as the Holy Roman Empire at some periods in history and as the German Empire at other periods. He established his capital at Aachen (modern Germany). He spread Christianity and developed efficient educational and political systems in his empire. He built many churches and was a devout Christian. The cathedral he built in his capital city of Aachen is still used. He was declared a saint in 1165 at the urging of the emperor, Friedrich Barbarossa. (This predated the formal process of canonization.) The declaration of sainthood was made by the bishop of Cologne with the formal approval of the pope, Paschal III. Paschal III, however, was an antipope and the man who came to be recognized as the official pope, Alexander III opposed the sainthood of Karl. After 1176 a compromise was reached whereby the sainthood was permitted but not officially sanctioned. Relics of Karl may be viewed in the Cathedral of Aachen.
January 28, 1799
Birth of Richard Rothe in Posen, Germany (now in Poland). A student of Friedrich Hegel, Rothe became a professor at the University of Heidelberg in theology. An idealist, he proposed the view that the state would continue a process of perfection until such time that church and state would merge into one and the Christian state would replace the traditional church.
January 28, 1809
Birth of Theodor Benfey in Nörten, Germany. Benfey was a professor at the University of Göttingen. He made significant contributions to the study of Sanskrit and linguistics.
January 28, 1823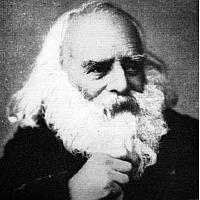 Birth of Moritz Schiff (1823-1896) in Frankfurt am Main, Germany. Schiff earned his M.D. at the University of Göttingen and became a professor of comparative anatomy at the University of Bern. Schiff's first major contribution to medical science was to prove that the thyroid gland is essential to life and then to discover that the thyroid gland could be replaced by thyroid grafts or injections of thyroid extracts. He was the first to note the influence of the cerebral cortex on blood circulation, the role of the vagus nerve in heart function and the return to the liver of bile salts from the intestine (Schiff's biliary cycle).
January 28, 1868
Death of Adalbert Stifter in Linz, Austria. Stifter was a writer who exulted the simple in life with classical style in his writings. Works by Stifter include Der Condor, Feldblumen, Die Mappe meines Urgroßvaters, Bunte steine, and Der Nachsommer.
January 28, 1884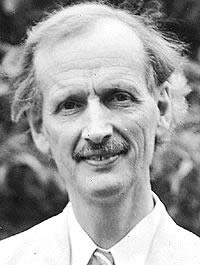 Birth of Jean-Felix Piccard (1884-1963) in Basel, Switzerland. Educated in Switzerland in chemical engineering, Piccard taught at the universities of Munich and Lausanne before coming to the United States to teach at the University of Chicago in 1916. Piccard's reputation was made as a pioneering balloonist. He had made his first balloon flight in 1913 and made stratospheric flights reaching heights of 11 miles. He ended his career as a professor of aeronautical engineering at the University of Minnesota, where he taught from 1936-1952.
January 28, 1892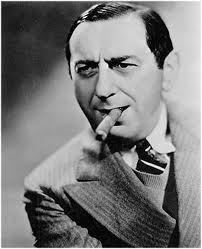 Birth of Ernst Lubitsch (1892-1947) in Berlin, Germany. In his early career Lubitsch had acted in the company of Max Reinhardt and started to make one-reel film comedies in Germany. Some of his early films, which gained international note were Madame Du Barry (1919), Das Weib des Pharao (1921) and Sumurun (1920). In 1923 he was called to Hollywood to direct Mary Pickford in Rosita. He continued as a major director in Hollywood with such films as Forbidden Paradise, Lady Windermere's Fan, Kiss Me Again, So this is Paris, The Merry Widow, Heaven Can Wait, and That Lady in Ermine, his last film completed in 1948.
January 28, 1919
Death of Franz Mehring in Berlin, Germany. Mehring became the head of the Berlin leftist newspaper, the Berliner Volkszeitung in 1883. He joined the Social Democratic Party in 1890 and edited the Leipziger Volkszeitung and the SPD's Neue Zeit. He opposed World War I and in 1916 became active in the Spartacusbund. He is noted for his biography of Karl Marx, Karl Marx: Geschichte seines Lebens (1918).
January 28, 1949
The first party congress of the SED of the Soviet Zone of Germany closes. It has set up a Politburo of which Pieck, Grotewohl and Ulbricht are members. Pieck would become the first head of East Germany (DDR) and Ulbricht the second.
January 28, 1963
Death of Jean-Felix Piccard in Minneapolis, MN (born in Basel, Switzerland). Piccard, a chemical and aeronautical engineer, was born on January 28, 1884.
January 28, 1988
Death of Klaus Fuchs (1911-1988) in Dresden, East Germany. The physicist, Fuchs had joined the German communist party in 1930. In 1933 when the Nazis rose to power he fled to Great Britain. There he joined a team at the University of Birmingham working on the development of an atomic bomb. He soon began passing information to the Soviet Union. In 1943 he was sent to Los Alamos to work on the American bomb project. He continued to keep the Soviet Union informed. At the end of the war he returned to Great Britain as head of the physics department of the British nuclear research center at Harwell. In 1950 he was arrested and admitted giving classified information to the Soviet Union. He was sent to prison. He was released in 1959 and fled to East Germany where he became deputy director of the Central Institute for Nuclear Research at Rossendorf. He received many honors and awards.
Back to Today in German History Calendar