July 20, 1839
Birth of the pathologist, Julius Cohnheim, in Demmin, Prussia. He worked with the effects of tuberculosis on tissue.
July 20, 1847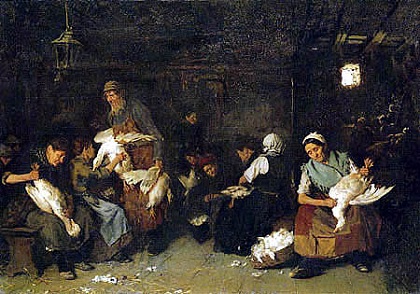 Birth of the artist, Max Liebermann, in Berlin, Germany. He was a leader in the German impressionist period.
July 20, 1850
Birth of Georg Müller in Grimma, Germany. Müller was a psychologist at the University of Göttingen and made significant contributions to knowledge about sensations, memory, learning and color vision.
July 20, 1866
Death of Bernhard Riemann in Italy. Riemann's work in mathematics led to innovations in theoretical physics and relativity theory. The Riemann surface is named in his honor as is Riemannian geometry. He was a professor of mathematics at the University of Göttingen.
July 20, 1870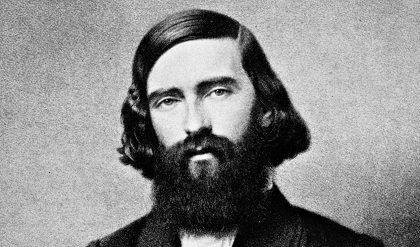 Death of Albrecht von Gräfe in Berlin, Germany. Gräfe was an eye surgeon, the founder of modern ophthalmology. He worked at the University of Berlin. He introduced iridectomy in 1857 for the relief of glaucoma, in 1867 developed a surgery for the removal of cataracts and in 1864 developed "Gräfe's sign" which is associated with Graves-Basedow disease.
July 20, 1933
Concordat between Germany and the Vatican.
July 20, 1934
Birth of Uwe Johnson in Cammin, Germany. Johnson was a novelist who explored the problems of life in divided Germany after WWII.
July 20, 1944
Attempted assassination of Hitler by Claus von Staufenberg. Von Staufenberg was arrested and executed on the same day.
July 20, 1945
Death of Ludwig Beck in Berlin, Germany. Beck was Chief of the General Staff and opposed Hitler's plan to occupy the Rhineland in 1936. He was a central figure in the plot against Hitler in 1944. After the failure he committed suicide.
July 20, 1947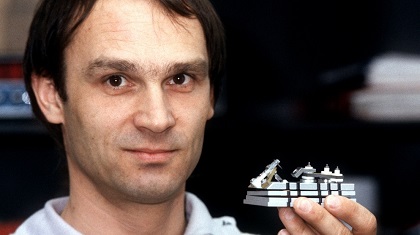 Birth of Gerd Binnig in Frankfurt am Main, Germany. German physicist Gerd Binnig studied at Goethe University and the University of Frankfurt, and has spent most of his career at IBM. In 1981, with his colleague Heinrich Rohrer, he designed the first scanning tunneling microscope, which uses quantum mechanical effects to magnify images of conducting or semiconducting materials to the extent that individual atoms are easily recognizable. In 1986 they invented the atomic force microscope, which uses an almost unfathomably sensitive stylus to mechanically probe surface contours at an even finer level of clarity. "I couldn't stop looking at the images", Binnig said of the scanning tunneling microscope's preliminary tests. "It was entering a new world." In 1986 he and Rohrer won the Nobel Prize, sharing the highest honor in science honor with Ernst Ruska, who invented the electron microscope.
July 20, 1995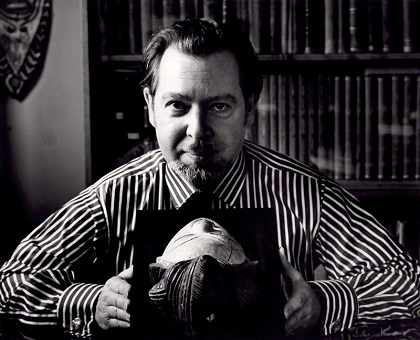 Death of Helmut Gernsheim in Munich, Germany. Gernsheim was one of the initiators of photography as a serious form of art worthy of study and as an academic discipline. After his study of art history at the University of Munich, he immigrated to England and spent much of his professional career in London. His book, which documented photography as a serious art form, was The History of Photography from the Earliest Use of the Camera Obscura in the Eleventh Century up to 1914 (1955).
July 20, 2002
A 250-kilogram American bomb from World War II is found in Berlin during a construction project. Hundreds of residents had to be evacuated for several hours during the defusing of the bomb.