July 23, 1562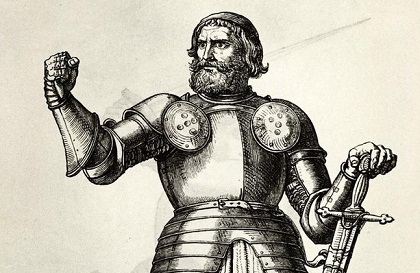 Götz von Berlichingen (also known as Götz of the Iron Hand) dies at Hornberg Castle. He was a German (Franconian) Imperial Knight (Reichsritter) and mercenary. He was born around 1480 into the noble family of Berlichingen in Württemberg. Götz bought Hornberg castle (Neckarzimmern) in 1517, and lived there until his death in 1562. He was active in numerous campaigns during a period of 47 years (1498–1544), including the German Peasants' War, besides numerous feuds; in his autobiography he estimates that he fought 15 feuds in his own name, besides many cases where he lent assistance to friends, including feuds against the cities of Cologne, Ulm, Augsburg, the Swabian League as well as the bishop of Bamberg.
His name became famous as a euphemism for a vulgar expression (er kann mich am Arsche lecken "he can lick my arse") attributed to him by writer and poet Johann Wolfgang von Goethe (1749–1832) who wrote a play based on his life.
July 23, 1878
Death of Karl, Freiherr von Rokitansky in Vienna, Austria. Rokitansky was a pathologist. Rokitansky's systematic analysis of disease, which he based on 100,000 autopsies, set the science of pathology on a firm footing and established the New Vienna Medical School as a world leader. He discovered Rokitansky's disease (liver), differentiated between lobular pneumonia and lobar pneumonia, set the micropathology of pulmonary emphysema, and was the first to describe spondylolisthesis. His outstanding work is Handbuch der pathologischen Anatomie.
July 23, 1884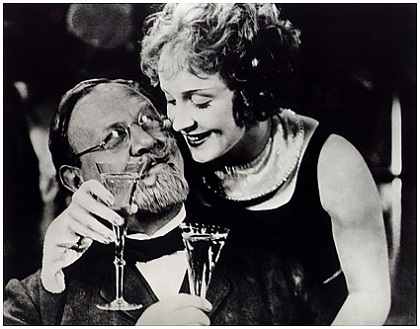 Birth of Emil Jannings (birth name: Theodor Friedrich Emil Janez) in Rorschach, Switzerland. Jannings was a globally known movie actor. He was the first actor to win the Academy Award for Best Actor, as well as the first person to be presented an Oscar. His most noted film was doubtlessly Der blaue Engel, in 1930. This film is also known for introducing Marlene Dietrich to worldwide attention.
July 23, 1886
Birth of Walter Schottky in Zürich, Switzerland. A physicist at the Universities of Würzburg and Rostock, his research in solid state physics and electronics led to a number of discoveries which are named after him. The Schottky effect, the Schottky defect and the Schottky barrier are examples.
July 23, 1899
Birth of Gustav Heinemann in Schweim, Germany. Heinemann was the President of Germany from 1969-1974.
July 23, 1914
The foreign minister of Austria-Hungary, Leopold Berchtold, presents an ultimatum to Serbia after the assassination of Franz Ferdinand. The terms of the ultimatum are such that Serbia will not accept them. (Berchtold actually wanted a preventative strike against Serbia.) The resultant clash between Austria-Hungary and Serbia ignited World War I.
July 23, 1952
The states of East Germany (DDR) are restructured into 14 districts.
July 23, 1952
The European Coal and Steel Treaty (EGKS-Vertrag) comes into force.