July 8
Feast Day of St. Kilian. St. Kilian was born in about 640, possibly in Ireland. He undertook missionary work to Germany. He began his work near Würzburg. He was killed by the pagans in the area in about 689. He is entombed in Würzburg. St. Kilian's feast day is July 8.
July 8, 810
Pepin, the son of Karl der Große (Charlemagne), dies in Italy.
July 8, 1604
Birth of Heinrich Albert in Lobenstein, Germany. Albert composed a series of 170 popular Baroque songs. He had studied composition with his cousin, Heinrich Schütz.
July 8, 1826
Birth of Karl Franz Chrysander in Lübtheen, Germany. Chrysander was a music critic and music historian. His historical note derives from his work of collecting the works of the musician Georg Händel.
July 8, 1838
Birth of Graf Ferdinand von Zeppelin (1838-1917) in Konstanz, Germany. Zeppelin was the inventor of the dirigible. His first flight was as a Prussian officer serving as an observer with the Union Army in America during the Civil War. He ascended in an observation balloon in 1863 from St. Paul, Minnesota. He then returned to Prussia and served in the Prussian army until 1890 when he retired and devoted the rest of his life to airships. He founded the Zeppelin Airship company.
July 8, 1867
Birth of Käthe Kollwitz (1867-1945) in Königsberg, Germany (now in Russia). A graphic artist and sculptor, Kollwitz was an advocate for the victims of social injustice and war.
July 8, 1873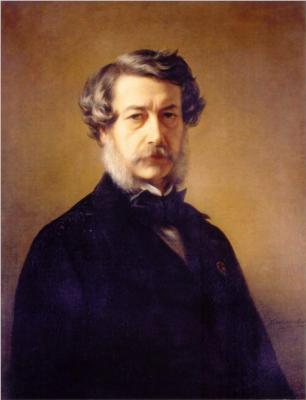 Death of Franz Xavier Winterhalter in Frankfurt am Main, Germany. Winterhalter was a portrait painter who did many portraits of royalty. He was active in France and England as well as Germany.
July 8, 1881
Publication of Friedrich Nietzsche's Morgenröthe.
July 8, 1885
The Marxist philosopher, Ernst Bloch is born in Ludwigshafen, Germany. Bloch was at the University of Leipzig when Hitler came to power. He fled to Switzerland in 1933 and then to the United States. In America he wrote the first two books of his three volume, Das Prinzip Hoffnung. He returned to Leipzig in 1948. He proved to be too critical for the East German authorities, however, fell into disfavor, was prohibited from publication and finally defected to the West in 1961. In West Germany he became a professor at the University of Tübingen.
July 8, 1919
Birth of Walter Scheel in Höhscheid, Germany. Walter Scheel was President of West Germany.
July 8, 1927
Death of Max Hoffmann in Bad Reichenhall, Germany. Hoffmann was the developer of the military strategy which Hindenburg and Ludendorff used in the Battle of Tannenberg of 1914 which was the first major German victory on the Eastern Front in World War I. In 1918 he led the offensive against Russia which forced the final peace terms ending Russian participation in World War I.
July 8, 1990
In the soccer World Cup finals Germany defeats Argentina 1-0.