June 19, 1867
Death of Maximillian, the Emperor of Mexico, in Queretaro, Mexico. Born in Vienna, Austria. He became Emperor of Mexico at the urging of the French, who controlled it as a colony. Maximilian rather naively accepted assurances that he had been popularly elected emperor by the inhabitants of Mexico. His reign lasted until 1867 when he was assassinated by rebels. (The French had already abandoned the colony when Maximilian was assassinated. He refused to leave at that time, holding to the belief that he was beloved by the majority of Mexicans.)
June 19, 1902
Death of Albert in Dresden, Germany. Albert was the king of Saxony from 1873-1902. He was trained and experienced as an army officer when he came to power and continued to take an active role in military affairs. He was actively involved in the war with the Danes, the Seven Weeks' War and the Franco-Prussian war.

June 19, 1843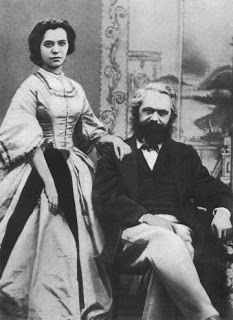 Karl Marx marries Jenny von Westphalen. Jenny von Westphalen and Karl Heinrich Marx regularly met each other as children. She was four years older than Karl. They became close friends as teenagers. Both of them were well-read and literary, and they soon began courting. According to Marx, she was the most beautiful girl in the town of Trier. Her father, Baron Ludwig von Westphalen, a friend of Marx's father, also befriended the teenage Marx, and would often go on walks with him, where they would discuss philosophy and English literature. Jenny and Karl became engaged in 1836. They eventually married in the Kreuznacher Pauluskirche (the Kreuznach church of Saint Paul), Bad Kreuznach.
Following their marriage, Karl and Jenny Marx moved to Rue Vaneau in Paris and befriended the German poet Heinrich Heine, who lived at Rue Matignon. Karl and Jenny had 7 children together, 3 of which died in early childhood. All of their daughters weer named Jenny, after their mother.
June 19, 1917
King George V orders members of the British royal family to give up their German titles and surnames. (They descended from George I of Hanover. ) The new name, Windsor, is chosen.
June 19, 1936
German boxer Max Schmeling knocks out Joe Louis in New York. On June 22, 1938, Louis knocked him out in one round.
June 19, 2000
Death of Christiane Herzog, wife of the former German President (1994 -1999), Roman Herzog. The couple had been married for 42 years. Christiane Herzog was born in Munich. She had been a home economics teacher before her marriage. She had been the chair of a cancer society. She published two books on cooking and hosted a TV show on ARD, "Zu Gast bei Christiane Herzog."
Back to Today in German History Calendar