March 22, 1459
Birth of Maximilian I in Wiener Neustadt. Maximilian was the archduke of Austria, the German king and the Holy Roman emperor. He did much to expand and consolidate the Habsburg holdings. He nearly became Pope. The Pope Julius was very ill and a schismatic Council of Pisa offered him the position as an anti-Pope. After much reflection he declined the offer. His greatest defeat was in a war with Switzerland. After that war through the Peace of Basel in 1499 he was forced to accept the independence of the Swiss.
March 22, 1663
Birth of August Hermann Francke in Lübeck, Germany. Francke was a Protestant religious leader who was an important promoter of German Pietism. He founded Pietist groups at the University of Halle. Francke taught theology and Oriental languages at the University.
March 22, 1728
Birth of Anton Raphael Mengs in Aussig, Bohemia (now in the Czech Republic). Mengs was a painter who studied in Dresden. In 1745 he became painter to the Saxon court in Dresden. He was a close friend of the critic Johann Joachim Winckelmann, a man with whom he shared great enthusiasm for classical antiquity. He became the leading artist of Neoclassicism and worked not only in Germany but also extensively in Rome and Spain.
March 22, 1797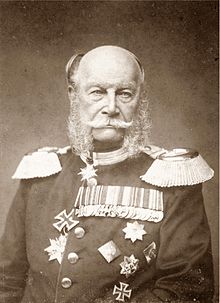 Birth of Wilhelm Friedrich Ludwig (1797-1888) (also known as Wilhelm I) in Berlin. Wilhelm would become the first Emperor of the German Empire in 1871. Wilhelm became the king of Prussia on January 2, 1861. He appointed Otto von Bismarck chancellor in 1862. He led the victorious Seven Week's War against Austria in 1866 and the war against France in 1870-71. Following the Franco-Prussian War on January 18, 1871 he became emperor of the new German Empire. Under the leadership of William and his Chancellor Otto von Bismarck, Prussia achieved the unification of Germany and the establishment of the German Empire.
March 22, 1798
Birth of Eduard Gans in Berlin, Germany. Gans was a jurist who founded the Society for Jewish Culture and Science, an organization which was dedicated to establishing the dignity of Jews. In 1825, however, realizing that his academic career was hopeless as a Jew, he converted to Christianity. He was soon able to secure the position of professor of law at the University of Berlin. His most noted work is Das Erbrecht in weltgeschichtlicher Entwicklung.
March 22, 1799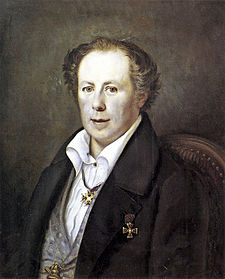 Birth of Friedrich Argelander (1799-1875) in Memel, Germany (now in Poland). Argelander was an astronomer who is noted for his catalog listing the positions and magnitudes of 324,188 stars. He was the director of the observatory in Bonn.  He is known for his determinations of stellar brightnesses, positions, and distances. In 1863, Argelander founded an international organization of astronomers named the Astronomische Gesellschaft.
March 22, 1809
Birth of Albrecht Graf von Bernstorff in Dreilützow, Germany. Bernstorff was a Prussian diplomat who became the foreign minister of Prussia. He was replaced by Otto von Bismarck in 1862.
March 22, 1875
Birth of Hans Grimm in Wiesbaden, Germany. Grimm was a popular writer who expressed ideals of Pan-Germanism. He lived for a time as a merchant in Africa which formed the basis of his most popular works Südafrikanische Novellen (1913) and Volk ohne Raum (1926).
March 22, 1920
Birth of Werner Klemperer in Cologne, Germany. The TV actor, best known for his role of Colonel Klink in the TV series, "Hogan's Heroes", came to America with his family in 1933 fleeing the Nazis. His father, Otto Klemperer, was one of the world's leading orchestra conductors.
March 22, 1935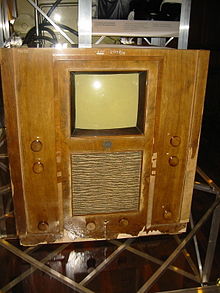 Telefunken receiver from 1936.
First regular television broadcasts in Germany.
Back to Today in German History Calendar