October 18, 1748
The Treaty of Aachen ends the War of Austrian Succession.
October 18, 1777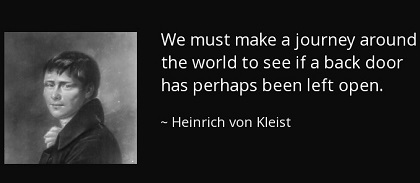 Birth of Heinrich von Kleist in Frankfurt an der Oder, Germany. Kleist was one of the outstanding writers of the 19th century. He read deeply of Kant and found many emotional conflicts in his attempts to realize Kant's ideals. One sees much of these conflicts in Kleist's writings. Among Kleist's works are, Robert Guiskard, Amphitryon, Der zerbrochene Krug, Das Kätchen von Heilbronn, Michael Kohlhaas, and Prinz Friedrich von Homburg. Kleist committed suicide in Berlin on the banks of the Wannsee in 1811.
October 18, 1799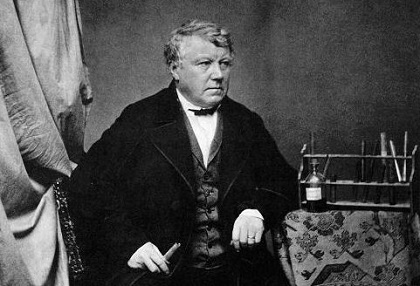 Birth of Christian Friedrich Schönbein in Metzingen, Germany. A chemist, Schönbein discovered and gave the name to ozone and discovered nitrocellulose (guncotton). He was a professor of chemistry at the University of Basel.
October 18, 1900
Lotte Lenya (Karoline Blamauer) born in Penzig, Austria. After an early career on stage as an actress/dancer she married the writer, Kurt Weill in 1926. In 1927 she appeared in the Marxist oriented work Mahagonny which Weill had produced with Bert Brecht. In 1928 she played in Die Dreigroschenoper. In 1933 she and Weill fled before the Nazis to France and then to New York. As Weill continued his musical career she developed a reputation on stage both before and after Weill's death in 1950. Lenya also appeared in a number of films. She died in 1981 in New York.
October 18, 1902
Birth of the physicist Ernst Pascual Jordan in Hannover, Germany. Jordan was a professor of physics at the Universities of Rostock, Berlin, and Hamburg. He was one of the early contributors to quantum mechanics and quantum electrodynamics.
October 18, 1941
Start of the mass deportations of Jews to concentration camps.
October 18, 1945
The first of the WWII war crimes trials held in Berlin.
October 18, 1977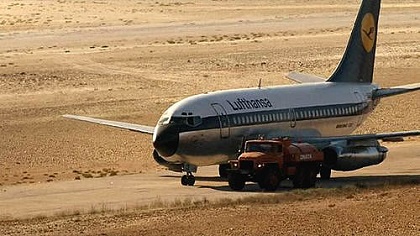 The Lufthansa plane which had been hijacked by Palestinian terrorists on October 13 is taken by commandos and the passengers are freed. Lufthansa Flight 181 was a Boeing 737-230 Adv aircraft named Landshut, hijacked on 13 October 1977 by 4 militants who called themselves Commando Martyr Halime. On October 18, the aircraft was stormed by the West German counter-terrorism group GSG 9 in Mogadishu, Somalia and all 86 passengers rescued. The rescue operation was codenamed Feuerzauber (German term for "Fire Magic"). The objective of the Lufthansa hijacking was to secure the release of imprisoned Red Army Faction leaders and is considered to be part of the German Autumn.
October 18, 1977
The convicted terrorist, Andreas Baader, is found shot in a prison Cell. He had been one of the leaders of the Baader-Meinhoff terrorist group.
October 18, 1989
Erich Honecker removed from power in East Germany. Egon Krenz assumes power in East Germany.