October 7, 1794
Birth of Wilhelm Müller in Dessau, Germany. Müller was a lyric poet who focused on Greek culture.
October 7, 1822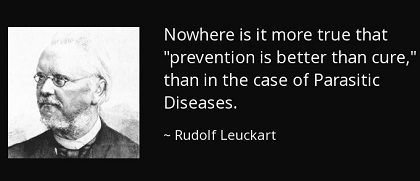 Birth of Rudolf Leuckart in Helmstedt, Germany. Leuckart pioneered the science of parasitology. He was a professor of biology at the Universities of Göttingen, Giessen and Leipzig.
October 7, 1919
Death of Lassa Francis Lawrence Oppenheim in Cambridge, England (born in Windecken, Germany). Oppenheim, a jurist, immigrated to London in 1895 to teach at the London School of Economics. In 1908 he became a professor at Cambridge University. He specialized in international law. He based his concept of international law on adherence to specific agreements and customs between nations. His most significant book is International Law: A Treatise (2 vols. 1905-1906).
October 7, 1926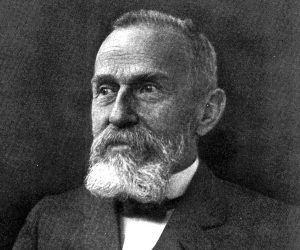 Death of Emil Kraepelin in Munich, Germany. A psychiatrist at the universities of Heidelberg and Munich, Kraepelin organized psychiatric disorders into a system usable by psychiatrists. The first publication of his Compendium der Psychiatrie was in 1883. His system was the starting point for contemporary classifications. He was the first to distinguish between schizophrenia and manic-depressive psychosis.
October 7, 1949
Establishment of East Germany. October 7 was the national holiday of the GDR until it ceased to exist in 1990.
October 7, 1989
Despite the mass exits of East Germans and the mass protests, East Germany continues to try to celebrate its 40th anniversary. On October 7 Soviet president Gorbatschov is a featured speaker in Berlin, but rather than encourage the Honecker government he says,"Whoever comes too late will be punished by events."
October 7, 2001
Pope John-Paul II beatifies two Germans, Nikolaus Groß and Maria Euthymia Üffing.