September 30
Feast day of St. Ursus (? – ca. 303). St. Ursus was a Roman Legionnaire who had converted to Christianity. According to the legends of the saints he was tortured attempting to force him to worship pagan idols. Finally he was beheaded. He is associated with St. Maurice and Solothurn, Switzerland where he was put to death. The chapel of St. Peter stands at the place in Solothurn where St. Ursus died. His designation as a saint predates the formal practice of canonization by a Pope.
September 30, 1452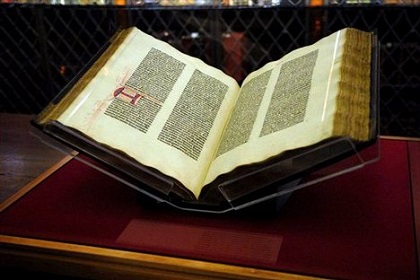 Johann Gutenberg prints his first book, the Bible, at his workshop in Mainz, Germany.
September 30, 1791
The first performance of Mozart's Opera Die Zauberflöte is given in Vienna.
September 30, 1811
Birth of Maria Luise Augusta Katharina in Weimar, Germany. She became the empress of the German Reich in 1871 as the wife of Wilhelm I. Her son became Emperor Friedrich III.
September 30, 1857
Birth of Hermann Sudermann in Matziken, East Prussia (now in Lithuania). Sudermann was one of the leading writers of the Naturalist period of literature. Noted works by Sudermann include Frau Sorge, Die Ehre, Heimat, Es lebe das Leben and Der gute Ruf.
September 30, 1882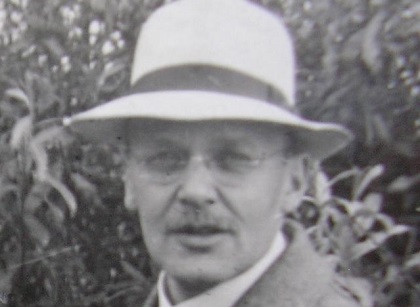 Birth of Hans Geiger in Neustadt an der Haardt, Germany. A physicist, he invented the Geiger counter, a type of particle detector that measures ionizing radiation. It detects the emission of nuclear radiation — alpha particles, beta particles, and gamma rays — by the ionization produced in a low-pressure gas in a Geiger–Müller tube, which gives its name to the instrument. In wide and prominent use as a hand-held radiation survey instrument, it is perhaps one of the world's best-known radiation instruments. Hans Geiger studied at the University of Erlangen. He was later at the University of Manchester, England. In 1912 he accepted a position at the Physikalisch-Technische Reichsanstalt in Berlin where he did research on atomic structure. He then became then a professor at the University of Kiel, the University of Tübingen and the Technische Hochschule in Berlin.
September 30, 1882
Birth of Johann Jakob Herzog in Erlangen, Germany. A Protestant theologian at the Universities of Halle and Erlangen, he edited the standard work on Protestant theology, Real-Encyklopädie für protestantische Theologie und Kirche.
September 30, 1928
Death of Ludwig Pastor in Innsbruck, Austria. Pastor who was a professor of history at the University of Innsbruck and later the Austrian ambassador to the Vatican. Pastor's major work was the 16 volume Geschichte der Päpste seit dem Ausgang des Mittelalters (1886-1933).
September 29-30, 1938
Munich Accord giving Germany the Sudetenland (Chamberlain: "Peace in our times.") In 1938 amid growing concern about Adolf Hitler's aims, the British prime minister, Nevil Chamberlain traveled to Munich to try to make a deal with Hitler. It was there on the 29th and 30th of September, 1938 that Hitler and Chamberlain signed the Munich Accord. Chamberlain returned to London with the paper announcing that he had secured "Peace in our time" with the compromises made at Munich. Hitler viewed it as a green light to take over Czechoslovakia and prepare for his next conquest.
September 30, 1943
Birth of Johann Deisenhofer in Zusamaltheim, Germany. A biochemist, Deisenhofer won the Nobel Prize for Chemistry in 1988 for determining the structure of those proteins needed for photosynthesis. He did research at the Max Planck Institute in Martinsried, Germany until 1987 and then went to the Howard Hughes Medical Institute in Dallas, Texas.
September 30, 1946
At the Nürnberg War Crimes Trials, von Ribbentrop and Goering are sentenced to death.
September 30, 1949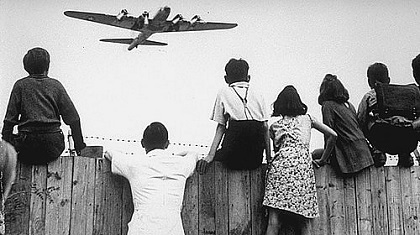 After 15 months and more than 250,000 flights, the Berlin Airlift officially comes to an end. The airlift was one of the greatest logistical feats in modern history and was one of the crucial events of the early Cold War. On September 30, 1949, the last plane–an American C-54–landed in Berlin and unloaded over two tons of coal. Even though the Soviet blockade officially ended in May 1949, it took several more months for the West Berlin economy to recover and the necessary stockpiles of food, medicine, and fuel to be replenished. The airlift had totaled over 277,000 flights.
September 30, 1953
Death of Ernst Reuter in Apenrade, Germany. Reuter was the Mayor of West Berlin during the Blockade (1948-1949) and until his death.
September 30, 1985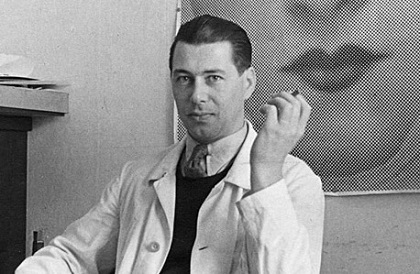 Death of Herbert Bayer in Montecito, California (born in Haag, Austria). Bayer was an advertising designer. He trained and worked at the Bauhaus. He was an art director with Vogue magazine. He immigrated to the United States in 1938. In 1946 he became the chair of the department of design of the Container Corporation of America. He also worked as design consultant for Aspen Development.
September 30, 1989
6,000 East Germans who have sought asylum at the West German embassy in Prague are allowed to leave to West Germany.