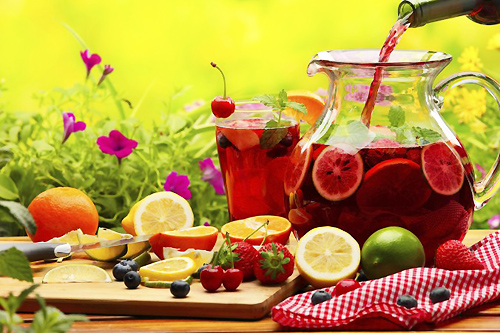 Ingredients:
– 4 cups apple juice (the lighter, the better)
– 2 cups cranberry juice
– 2 cups white grape juice
– 1 bottle champagne (or for non-alcoholic use ginger ale)
– 1 cup sliced ripe peaches (fresh, not canned!)
– 1 cup vodka
– 1 lemon (thinly sliced)
– 1 orange (thinly sliced)
– 1 cup sugar
– 3 large carnations and mint sprigs
– fresh cranberries, cherries, strawberries to taste
Preparation:
1. Fill ice cube trays 1/3 full with white grape juice.
2. When ice is hardened, place one cranberry in each of the cubes and fill the remainder of the cube with more grape juice. Freeze.
3. In a large jar (sun tea jar is perfect), combine vodka with other fruit and sugar and place in refrigerator. Chill all other ingredients.
4. The day of the event, fill the punch bowl with the cranberry and apple juice. Slowly add the vodka and fruit mix followed by the champagne.
5. For presentation, tear the petals off the carnations and sprinkle atop the punch. Carnations are edible.