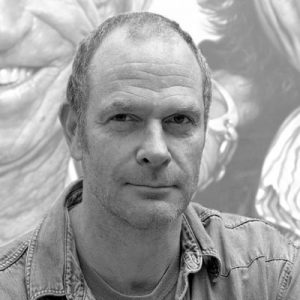 Sebastian Krüger is a German artist. He was born on June 30, 1963, in Hamelin. After studying free painting with Prof. Dörfler at the Braunschweig University of Fine Arts he made a stunning reputation as the designer of a number of cover spreads for the press in Germany and abroad and as an illustrator and creative designer of various LP covers. He then stepped away from commercial work and devoted himself solely to free painting. Artistically he has developed, in recent years, away from the early role of the so-called "star caricaturist" to that of a star of the New Pop Realism. His artistic visions are treasured and collected by other stars of the pop scene, like the Rolling Stones, who are friends of his, and by art connoisseurs all over the world.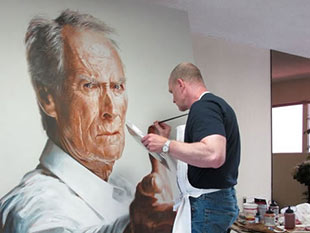 In the quarter century of his creative career Krüger has remained true to the ideal of a New Pop Art, dedicating his art to a kind of game of deception, the interplay of identity and pose, of authenticity and fiction. This has enabled him to establish himself as a popular painter whose works draw large numbers of visitors to the galleries and museums. The defining feature of his work is creative reflection about the apparatus of media presentation and the manic iconography of contemporary picture production. His FACES are a kindly meant but thoroughly subversive tribute to the world of beautiful appearances and to the rock and pop culture of the sixties, with which the painter has cultivated an almost ritualistic relationship. According to his own comment on his work ( "Everything is in transition, that's all") he has devoted himself for some years, with the same artistic passion as before, to the reworking of the private world of his childhood.
His primary medium is acrylic paint, and his paintings are hyper-realistic in detail, yet also extremely grotesque in their distortion. The Times praised him for "capturing the essence of his subjects" in his renderings. He is well known for his lifelike depictions of The Rolling Stones, in particular, Keith Richards.
Krüger treats the faces of aging rock stars like they are rugged landscapes. Both fluid and precise, his paintings have the natural beauty and depth of the Grand Canyon.
The artist lives and works near Hanover and in California.