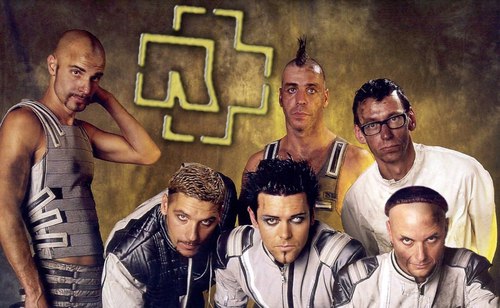 Rammstein is a German band that was formed in 1994. Rammstein musical style incorporates elements of metal/hard rock, industrial metal, and electronic music, which the band has termed 'Tanz (dance) Metal'. Their songs are performed almost exclusively in German. They have sold over 12 million records worldwide.
The Story
Rammstein was started by Richard Z. Kruspe-Bernstein. At this time, Richard lived with Oliver Riedel (of the band The Inchtabokatables) and Christoph Doom Schneider (of Die Firma). The three started working together on a new project. Then Richard got Till Lindemann to join them as it was hard to write music and lyrics at the same time.
A contest for new bands was announced and the prize was studio time. The four of them recorded the first Rammstein demo and won. Paul Landers joined them soon. At this point, all they needed for the machine-sound was a keyboarder. They tried to get Christian "Flake" Lorenz to join, as he had played with Paul before in the band Feeling B. Flake was not entirely thrilled with the idea at first and didn't want to join for a long time. But he agreed eventually.
About the time the band was formed, they all had relationship problems which provided the foundation for their debut album Herzeleid (Heartache) in 1995. Since then, they have reached gold and platinum status for their music and have become Germany's number one music export. Despite lyrics that are in German, the band has enjoyed success outside of Germany, both in Europe, North America as well as Japan, Australia and New Zealand. With the album Reise, Reise (2004), they became the most successful German-language band of all time internationally. Rammstein has had several top ten singles in Europe.
The asteroid 110393 Rammstein is named in the band's honour.
The Name
Rammstein takes its name from the western German town of Ramstein-Miesenbach, site of an airshow disaster in 1988. The band's signature song, the eponymous "Rammstein", is a commemoration of the tragedy that took place at the Ramstein Air Base. The extra "m" in the band's name allows the word to mean "battering ram" (literally "ramming stone"), reinforcing the image of the band's music as fierce and relentless.
The Style and Lyrics
Rammstein's style has tended to divide critics, some of whom have responded with memorably dismissive comments. The New York Times (Jan. 9, 2005) commented that on the stage, "Mr. Lindemann gave off an air of such brute masculinity and barely contained violence that it seemed that he could have reached into the crowd, snatched up a fan, and bitten off his head." Other critics have been more positive. Despite Rammstein's brutalist image, many of its songs lyrics demonstrate a certain sense of humour.
Wordplay is a fundamental component of Rammstein's lyrics. In many instances, the lyrics are phrased such that they can be interpreted in several ways.
In an interview in March 2017, Richard Kruspe said that Rammstein had about 35 new songs that were close to completion, though the release date of the band's seventh studio album was an open question