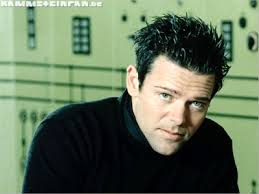 Richard Z. Kruspe was born in Wittenberge, East Germany on June 24, 1967. He has two older sisters and brother. His parents divorced when he was young.His mother remarried, but he did not get along with his stepfather.
As a child, Richard was a fan of KISS. When he was twelve, he had a KISS poster in his room, but his stepfather tore it down and destroyed it, and Richard stayed up all night putting it back together.
At the age of sixteen, Richard Kruspe and some friends visited Czechoslovakia, where he bought a guitar. He planned to sell it, because they were very expensive and thought he could make a nice profit. But when he returned to East Germany, a girl at a campground asked him to play. He couldn't play, but she kept insisting, and Richard got mad and started strumming the strings. Then he realized girls like guys who play guitars.
This got him interested in playing the guitar. At the age of nineteen he moved to East Berlin and "made music all day".
In 1989, prior to the fall of the Berlin Wall, Richard Kruspe was riding through the subway. When he came above ground, he found himself in the middle of a political demonstration. He was arrested just for being there, and thrown in jail for six days. Once out of jail, he decided to leave East Germany. When the wall came down, he moved back east.
Around 1991, Richard started the band Orgasm Death Gimmicks.
In 1992, Richard made his first trip to the USA with Till Lindemann and Oliver Riedel. He realized that he didn't want to make American music and concentrated on creating a unique German sound.
In 1994 Richard Z. Kruspe started Rammstein that has become Germany's number one music export.
Personal life
Richard married South African (American) actress Caron Bernstein in 1999. The ceremony was Jewish and Richard composed the music for it. Richard took on the named Richard Kruspe-Bernstein during their marriage. They separated in 2004. Richard's name is now back to its original "Kruspe" as the divorce was finalized.
In 2001 he moved from Berlin to New York where he now resides to live closer to his ex-wife Caron and his daughters.
Solo project
Richard Kruspe began work on a solo project around this time, called Emigrate and work continues on it to this day. He had said he wanted to record an album in 2005. No other Rammstein band members are involved. In early September 2006, members of the Rammstein were sent an invitation to the Emigrate newsletter and the chance to download the song "Wake Up". Three other samples have surfaced on Emigrate's website, these ar:"My World", "Babe" and "Temptation".