Richard Wagner was not only a great and productive composer, he was also an extremely amorous man. In 1834 Wagner met Christine Wilhelmine (Minna) Planer, an actress, and in 1836 they got married. The marriage was far from successful. To the contrary, it was quite "stormy" because of Minna's and Wagner's numerous love affairs on the side. They often traveled together but Wagner just couldn't help falling in love with someone else's wife.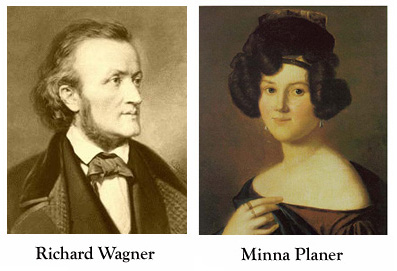 Really bad times started for Minna after more than 20 years of marriage with Richard. In 1859 she even had to return to Dresden after Wagner's affair with Mathilde Wesendonck became too much for her to take. He composed 5 "Wesendonck-lieder" to poems by Mathilde. For this he set aside his work on "Siegfried". Wagner had retreated to Venice to continue work on "Tristan und Isolde". Wagner parted with Minna for the last time on November 7, 1862 in Dresden. Minna died in Dresden on 25 January, 1866, while Wagner, in Geneva with Cosima von Bülow (the daughter of Franz Liszt), was searching for a home after being expelled from Munich.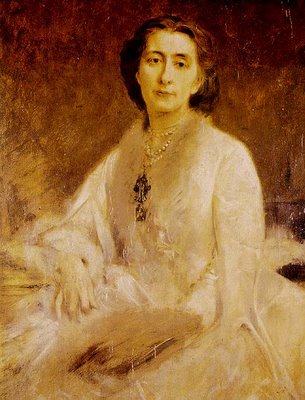 The story of Wagner's acquaintance with Cosima is rather interesting. In August 1861 he and his friends arrived in Bad Reichenhall. Wagner had another mistress accompany him. It was Blandine Ollivier (nee Liszt) whose sister Cosima was taking a sour milk cure at Bad Reichenhall. 48-year-old Wagner found 24-year-old Cosima  in such good health that he gave up Blandine, to her husband's relief, and concentrated on Cosima. Wagner and Cosima maintained their relationship and got married in Lucerne in 1870 while Blandine died young at St. Tropez, France. In the summer of 1862, while Wagner was living in Biebrich, Minna Wagner came to Bad Reichenhall to take a cure for her failing heart. Wagner didn't help matters by suggesting a divorce that spring.
Wagner's irresistible charm didn't always help the matters. It was in 1859 in Baden-Baden, when Wagner was still in exile. He met Countess Hacke, a lady-in-waiting to Princess Augusta of Prussia. Wagner met Augusta and asked her to intercede before the Saxon court to allow him to return to his homeland and Dresden, from where he had been ousted for taking part in the revolution of 1848/49. Augusta didn't find Wagner impressive enough and refused helping him.
Wagner had three children with Cosima: Isolde (1865), Eva (1867), and Siegfried (1869). In July 1870 Cosima's marriage to von Bülow was annulled; she and Wagner got married in Lucerne on August 25.
The last affair in his life Wagner had in 1883, when his wife found out about his infatuation with Carrie Pringle, an actress participating in "Parsifal". Cosima and Richard had a stormy scene on February 13, and a few hours later Wagner was found dead. He died of a heart attack.




Related article:
Richard Wagner
Cosima Wagner – the Lady of Bayreuth and Richard Wagner's Wife