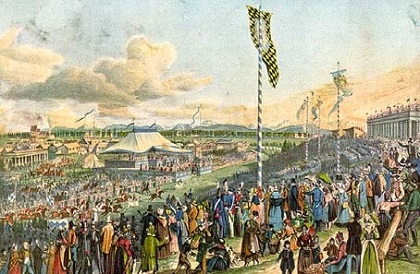 Oktoberfest was started long ago, it dates back to 1810, when a royal wedding of King Ludwig I and Princess Therese of Saxony-Hildburghausen took place on Theresienwiese ("Theresa's fields"). As time passed by, Oktoberfest lost its original meaning, but preserved and even more acquired the spirit of overall joy and happiness. Nowadays this is the largest festival in the world gathering up to 7 million visitors from all over the world to have fun and enjoy splendid German beers and authentic German food. Moreover, since 1995 Oktoberfest has had its own logo!
After the name of the traditional place of celebration – Theresienwiese – Oktoberfest is called by the local people simply "Wiesn". Another tradition of Oktoberfest is Munich mayor's exclamation "Ozapft is", or as it sounds in High German "Angezapft ist es" which means "It's been tapped". The mayor taps the first keg of beer and Oktoberfest thus gets started.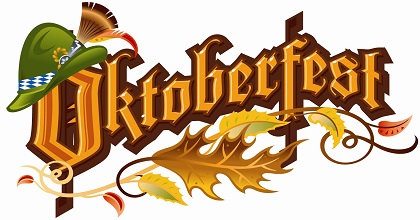 According to statistics, in 2000 6.9 million visitors consumed 6,459,100 liters of beer + 170,400 liters of non-alcoholic beer, 681,242 fried chicken, 235,474 pairs of bratwurst (pork sausages) and many more German specialties. Nevertheless they are not just passive eaters and drinkers. All festivities are accompanied by a rich and spectacular program of events for the enjoyment and excitement of visitors of all ages. Each year Munich visitors take part in costumed parades, listen to various music band concerts, enjoy the famous Circus Krone performances, and have great time communicating with each other.
Related articles:
Oktoberfest Traditions
Oktoberfest in Germany
German Beer – the Absolutely German Drink