Oktoberfest is a 16-day beer festival held annually in Munich, Bavaria, Germany, running from late September to the first weekend in October. Oktoberfest is one of the most famous events in Germany and is the world's largest fair, with more than 5 million people attending every year. Oktoberfest is an important part of Bavarian culture, having been held since 1810. Other cities across the world also hold Oktoberfest celebrations, modeled after the Munich event.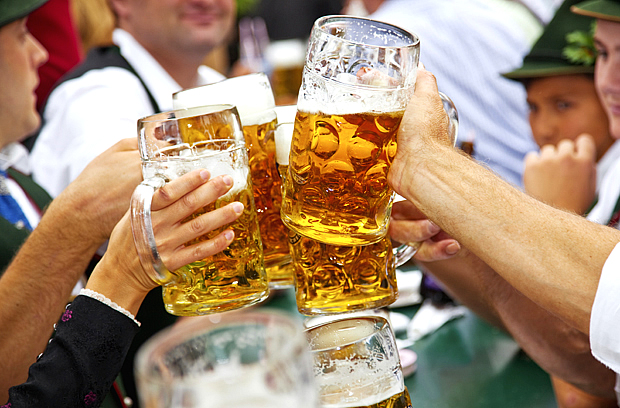 The Munich Oktoberfest originally took place during the sixteen days up to and including the first Sunday in October. And since the Oktoberfest is still held on the Theresienwiese, the locals still refer to the event simply as the "Wies'n". So "welcome to the Wies'n" means nothing other than "welcome to the Oktoberfest"!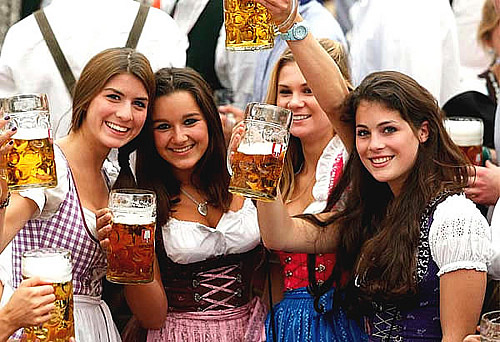 Large quantities of Oktoberfest Beer are consumed, with almost 7 million liters served during the 16-day festival in 2007. Only beer conforming to the Reinheitsgebot, at a minimum of 12.5% Stammwürze (approximately 6% alcohol) may be served at Oktoberfest. The beer must also be brewed within the city limits of Munich. Beers meeting these criteria may be designated Oktoberfest Beer.
Visitors may also enjoy a wide variety of traditional food such as Hendl (chicken), Schweinebraten (roast pork), Schweinshaxe (grilled ham hock), Steckerlfisch (grilled fish on a stick), Würstl (sausages) along with Brezeln (Pretzel), Knödel (potato or bread dumplings), Käsespätzle (cheese noodles), Reiberdatschi (potato pancakes), Sauerkraut or Rotkohl/Blaukraut (red cabbage) along with such Bavarian delicacies as Obatzda (a spiced cheese-butter spread) and Weisswurst (a white sausage).
Experienced waiters need an average of only one and a half seconds to fill a Maß (Maß is the German word describing the amount of beer in a regulation mug; in modern times exactly 1 litre)
In 2015, the festival officially served 7.3 million litres (62,000 US bbl) of beer; for perspective, that is enough to fill nearly three (2.9) Olympic-size swimming pools.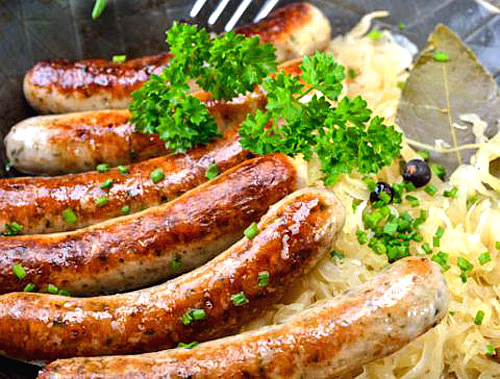 Here is the calendar of events for Oktoberfest 2019:
Saturday
21.09.19
10.45 a.m.
The parade of the Wiesn landlords and breweries on Josephspitalstraße
Saturday
21.09.19
12.00 p.m.
Tapping of the first Oktoberfest-beer-barrel by the Munich mayor in the Schottenhamel Tent
Sunday
22.09.19
10.00 a.m.
Traditional costume and hunters' parade through Munich on Maximilianstraße
Thursday
26.09.19
10.00 a.m.
The Wiesn church service in Marstall Festzelt
Sunday
29.09.19
11.00 a.m.
The Wiesn landlords' concert in Theresienwiese
Sunday
06.10.19
12.00 p.m.
Traditional gun-salute on the steps of the Bavaria monument
Related articles:
Oktoberfest Traditions
German Beer – the Absolutely German Drink
Oktoberfest…The Fest Of Times