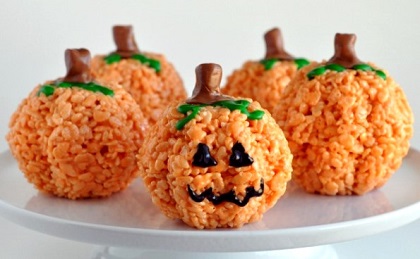 Trick or Treat? Treat!!!

November… Cold biting wind is howling outside the window, the pale moon is swimming above the naked trees, and one can almost see all kinds of broom-riding witches and foggy ghosts in the dark… Isn't it the best party time for Halloween?!?
Halloween party will not be Halloween party without great costumes and decorations. However it will not be that great either without the nice spooky snack, nicht wahr? Let's start with the hot apple punch, proceed with Halloween picnic meat and Spicy eggs, and finish with chocolate cookies.
Hot Apple Punch
Take:
☻ 1 l natural apple juice (if possible sour)
☻ some sugar if needed
☻ 2 tbsp. cinnamon
☻ juice of 1 lemon
☻ some liquor (e.g. vodka) if needed
Make:
Blend the apple juice, juice of a half the lemon, 1 tsp. cinnamon and sugar in a fire-proof bowl and heat. Dip the edge of each glass first in the rest of lemon juice, and then into the cinnamon-sugar mix. Fill the glasses carefully with the punch. The adults should add some liquor into their glasses – for a more bewitching effect!
Halloween Picnic Meat
Take:
☻ about 200 g cold roast meat
☻ 120 g (4 tbsp.) butter
☻ 2 tbsp. sour cream
☻ salt, pepper to taste
☻ 1 tbsp. lemon juice
Make:
Chop up or meat-mince the cold roast meat, blend the room-temperature butter and the other ingredients in. The Halloween picnic paste is ready! Now spread it on the rye bread, or even better – on toasts. Listen to the crunching, and make your imagination work!
Spicy Eggs Toasts
Take:
☻ 2 tbsp. sesame seeds
☻ 2 tbsp. ground hazel nuts
☻ 1 tsp. ground coriander
☻ 1 tsp. ground caraway seeds
☻ salt, black pepper to taste
☻ 4 or 5 hard-boiled eggs
☻ rye bread
☻ butter
Make:
Roast all spices and nuts on a frying-pan till they start exhaling fragrance. Remove then the mix from the heat, and grind all together in a food processor, or chop. Make rye toasts, slice the eggs and cover the toasts with eggs slices. Now sprinkle with the spicy mix.
Chocolate Cookies
Take:
☻ 1/2 cup butter
☻ 1/2 cup sugar
☻ 1/3 cup brown sugar
☻ 1 egg
☻ 1 egg yolk
☻ a pinch of salt
☻ 1 cup flour
☻ 1/2 tbsp. baking powder
☻ 1/2 cup chocolate chips
Make:
Beat sugar and soft butter into a foam. Blend in the egg and the yolk. Add flour and baking powder. Finally add choco chips. Cover the baking sheet with baking paper, and use the table spoon to lay out the dough onto the baking sheet. Be sure to leave enough space between the cookies so that they don't become one big pancake! Bake in the preheated oven for 10-15 min.
Tasty Halloween!
Related Articles:
How did Halloween Come to Germany
Halloween's Origins and Traditions of Celebration in Germany
All Pumpkins' Night in Germany