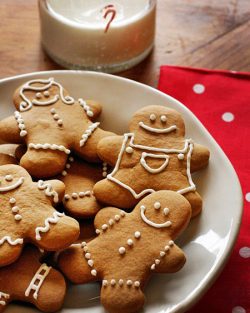 Gingerbread cookies are traditionally made in Germany for Christmas. Cook them anytime, and let some Christmas into the house right now!
Difficulty Level: Average Time Required: 30 min
---
Here's How:
Heat 3/4 cup honey, 3/8 cup sugar and 2 tbsp butter in a saucepan until smooth.

Stir in ginger, black pepper, ground cardamom, cinnamon, cloves, coriander and nutmeg (a pinch of each).

Let cool.

Sift 2 cups flour into a bowl, add the honey mass and one egg yolk. Mix well.

Dissolve 1 tsp baking soda in 1 tbsp warm water and add to the mixture.

Knead in 1 cup flour to make a firm dough.

Heat the oven to 160 C.

Roll out the dough to 1 cm thick.

Cut out your favorite figures and place on a greased baking sheet.

Bake for 10-12 min and let cool.

For icing mix 4 tbsp sugar, 1 tsp lemon juice and 1 tsp water.

Decorate the cookies when cool.
Tips:
Use the heavy-based saucepan.

Make the dough firm enough to come away from the bowl's sides.
Related articles:
Lebkuchen – German Gingerbread Recipe