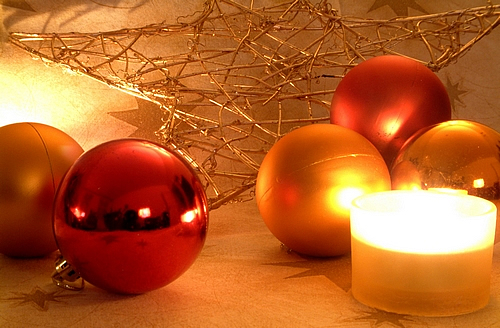 Christmas (Weihnachten) is considered to be the most important of the major holidays in Germany. Not only the holiday itself, but also the weeks leading up to the celebration of Christmas involve many traditions and customs.
Christmas preparations in Germany begin from 1st of December as people bake spiced cakes, gingerbread houses and cookies, make gifts and start holiday decorations. On 6th of December, Nikolaustag or St. Claus day is celebrated and children leave out a shoe or boot outside the door on the previous evening.
Good children receive presents while bad children receive blows from rod. Traditional Christmas toys consist of little dolls of fruit. Children write letters to the angel Christkind (a messenger of the Christ child), a winged figure in white robes and a golden crown who delivers gifts to German children, and keep them on their windowsills on Christmas Eve. Sometimes, they decorate letters by sprinkling sugar on the glue-brushed letters to make them sparkle.
The German Christmas season officially begins with the first Sunday of Advent. The Advent wreath (Adventskranz) is adorned with four candles, one of which is lit on each of the four Sundays preceding Christmas. The first Advent wreath, which appeared in the mid-19th century, had 4 larger candles and 19 smaller ones. Each day one additional candle was lit to help the children count the days until Christmas. Today only the four larger candles remain. The Advent wreath has been attributed religious and elemental significance. The tradition of a ring of light existed among the Germanic tribes many centuries before the celebration of Advent.
December 24th begins as a regular workday. But by 2:00 pm, often even earlier, businesses close in preparation for the holiday celebration, a large part of which occurs on Christmas Eve in Germany. The traditional evening meal includes roast duck, goose or rabbit with potato dumplings and of course Christmas Stollen. Families sing Christmas carols together and may read the story of Christ's birth aloud. Family members exchange gifts. The tradition of opening gifts on Heiliger Abend was started by Martin Luther in the 16th century in favor of a celebration that honored Christ rather than a Catholic saint.
Both December 25 and 26 are legal holidays in Germany and are known as the First and Second Christmas Day respectively.




Related Articles:
German Christmas Traditions
Keeping Up Traditions In Germany
Christmas tree – Tannenbaum
Advent in Germany – Four Weeks Left till Christmas!
German Christmas Markets – Christmas Shopping in Germany
Christ Child – Christkind