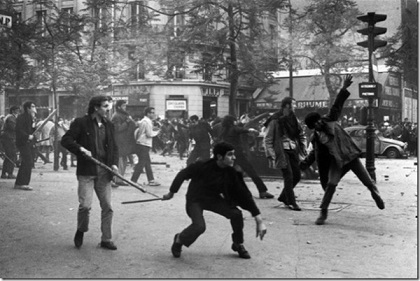 In addition to troubling economic and environmental problems for which no easy solutions were available, West Germany and its politicians had to contend with two new sources of social unrest: the student movement of the late 1960s and early 1970s, and left-wing terrorism, which originated in the late 1960s, but which had its greatest impact in the 1970s.
Inspired by the student movement in the United States and by the international movement opposing the war in Vietnam, as well as by rising opposition to the traditional administration of German universities, students organized protest movements at a number of German universities in the late 1960s. Sit-ins, disruption of lectures, and attacks against buildings housing major publishing companies, such as the Axel Springer Group, were staged by a minority of student groups, primarily those with Marxist ties. Protesters claimed that an "extra-parliamentary opposition" was needed to ensure representation of the people in a state that was governed largely by two major parties. The student protest movement had little support among the population, however, and was finally absorbed by the established parties.
Terrorism was also a concern during this period. A few radical student elements sought to realize their aims through political terrorism. Small groups launched violent attacks against "symbols of capitalism." They fire-bombed department stores in several cities, broke into police stations, robbed banks, and attacked United States military installations.
One terrorist group, notorious for its brutality, became known as the Baader-Meinhof Gang, named after its leaders, Andreas Baader and Ulrike Meinhof. Calling themselves the Red Army Faction (Rote Armee Fraktion–RAF), their aim was to assassinate the "levers of the imperialist power structure," thereby provoking the state to abandon lawful methods of fighting terrorism. The arrest and imprisonment in 1972 of the main RAF leaders led to an intensification of terrorist acts by the group, which culminated in 1977 in the kidnapping of Hanns-Martin Schleyer, the president of the Federation of German Employers' Associations (Bundesvereinigung der Deutschen Arbeitgeberverbaende–BDA) and in the hijacking six weeks later of a Lufthansa passenger airplane to Mogadishu, Somalia.
The aim of both these terrorist actions was the release of Baader and the other RAF prisoners. In a spectacular rescue action, the Lufthansa airplane was stormed by a special unit of the West German Federal Border Force, ending a five-day odyssey through the Middle East. Failing in their coup, Baader and three other RAF leaders committed suicide in their prison cells, and Schleyer was subsequently murdered by his kidnappers. The police had been successful in discovering hideouts, strategy papers, and caches of weapons, however, which led to the severe weakening of the organization of the RAF.
Nevertheless, supported by various international terrorist groups, including the GDR's Stasi, the RAF maintained a small network committed to assassinating prominent public figures. In 1989 they were responsible for the murder of Alfred Herrhausen, a top executive of the Deutsche Bank in Frankfurt, and in 1991 for the murder of Detlev Karsten Rohwedder, president of the Treuhandanstalt, the agency that managed the privatization of property in the former GDR.




Related articles:
Terrorism in Germany – Baader-Meinhof Gang
The Social Democratic-Free Democratic Coalition, 1969-82 and Willy Brandt
Ostpolitik
Helmut Schmidt
The Green Movement (Greens) in Germany