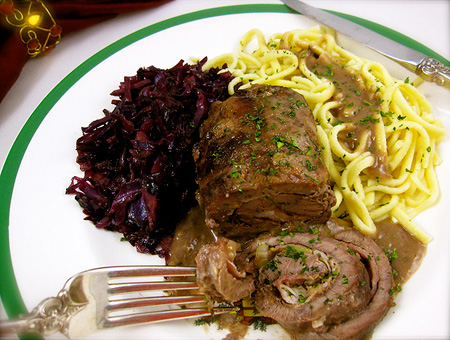 Rouladen or Rinderrouladen is a German meat dish, usually consisting of bacon, onions and pickles wrapped in thinly sliced beef which is then cooked.
Ingredients:
4 large, sweet onions, sliced
3 tbsp olive oil
4 lb (1.8 kg) beef top round, cut into 6 mm by 20 cm long slices, pounded until tender
1 tsp paprika
sea salt
whole black peppercorns, freshly ground
450 g hickory-smoked sliced bacon
1/4 cup oil
3 cups beef stock (reserve 3 tbsp for cornstarch mixture)
1 tsp finely chopped fresh flat-leaf parsley
German pickle slices
2 tbsp cornstarch
additional chopped parsley for garnish
Directions:
Caramelize onions in 3 tablespoons of oil; set aside to cool. Place pounded slices of beef on cutting board and work with them one at a time.
Season each beef slice with paprika, sea salt and pepper to taste. Line each piece with 1 slice of bacon, 1 tablespoon caramelized onions and 1 slice pickle, if desired. Roll the beef around the filling, folding in the sides until it becomes a bundle. Tie each bundle with string in 2 places to secure; set aside. Repeat until all meat slices are used. (Reserve any leftover onions to later place in the sauce.)
Heat large, heavy, stainless-steel skillet over medium heat for 1 minute; add 1/4 cup oil. Increase heat to high; add some of beef bundles without covering entire surface of pan. Sear bundles until golden on each side; remove from pan to plate. Repeat until all bundles are seared.
Take 3 tablespoons out of the 3 cups beef stock; refrigerate for later. Reduce heat to low in skillet; add remaining beef stock. Return all beef bundles to the skillet; add 1 teaspoon parsley and cover. Simmer for 45 minutes. Remove bundles to serving platter; remove string.
Stir cornstarch and reserved 3 tablespoons beef stock in cup; stir into skillet to thicken pan juices. Bring to low boil; cook, stirring constantly until thick and glossy, about 4 minutes. Season to taste with sea salt and pepper. Ladle gravy over Rouladen and garnish with additional chopped parsley. Serve with Spätzle.