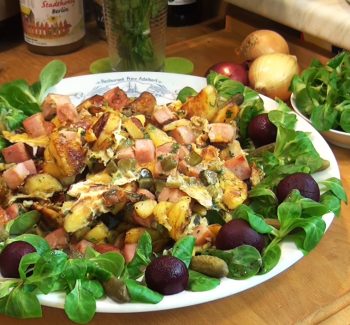 Hoppelpoppel is a traditional way to use up leftovers in Berlin. Made with meat, potatoes, onions, and eggs, it's one of those great quick recipes you can put together in no time. It is similar to the traditional Bauernfrühstück.
Ingredients:
8 small boiled potatoes
6 tbsp butter or olive oil
1 cup diced onions
1 cup diced green pepper
1 cup diced salami
10 eggs
2 tbsp fresh parsley
2 tbsp milk
pickles for garnish
x
Preparation:
Cut the potatoes into slices.
In a large skillet over medium heat, fry the potatoes in butter or olive oil, tossing and stirring until they begin to brown. Add onions, green pepper, and salami. Continue cooking and stirring until the potatoes begin to get crisp, the salami is crusty, and the vegetables are limp.
Mix the eggs with fresh parsley and milk. Pour into skillet over other ingredients. Stir occasionally. As eggs begin to set, cover and cook without stirring about 6 minutes, until eggs are fully set but still moist.
Serve on a large platter with pickles and hearty rye bread.