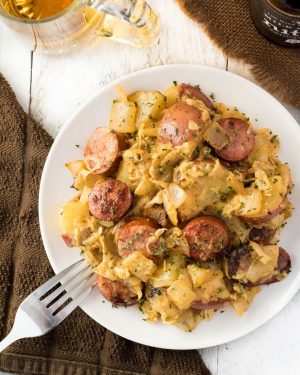 Ingredients:
450 g sauerkraut (1 can), drained
1 onion, sliced thin
1 tablespoon butter
½ cup dry white wine
1 cup chicken stock
1 tablespoon brown sugar
1 tablespoon white wine vinegar
coarse salt and freshly ground pepper to taste
8 bratwurst sausages
10 medium-sized potatoes
Preparation:
Simmer the sauerkraut for 10 minutes in boiling salted water. Drain.
Meanwhile, in a large skillet, soften the onions in the butter, browning lightly. Add the sauerkraut, wine, stock, sugar, vinegar, salt and pepper. Bring to a boil, turn down, cover and simmer, stirring occasionally, for 30 minutes.
Meanwhile, simmer the bratwurst in water to cover for 20 minutes.
Peel and halve the potatoes. Add them to the sauerkraut in the skillet and cook, covered, for 15 to 20 minutes or until tender.
While the potatoes are cooking, drain the bratwurst and brown lightly on all sides on a hot skillet.
To serve, put the sauerkraut and potatoes on a heated platter and arrange the bratwurst on top.