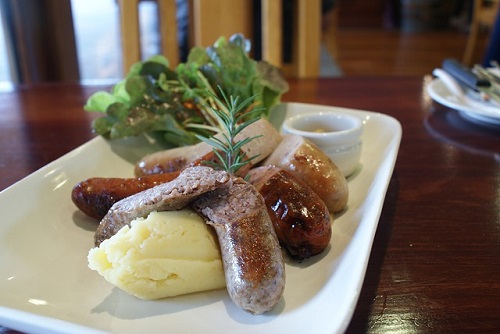 Ingredients:
6 lbs. boneless pork shoulder or pork butt
3 teaspoons sage
2 ½ teaspoons salt
2 teaspoons black pepper
2 teaspoons marjoram
1 ½ teaspoons crushed red chili peppers
½ teaspoon savory
½ teaspoon cayenne chili pepper
¼ teaspoon nutmeg
1 teaspoon allspice
Directions:
Chill the meat before you place it into the grinder. Grind the meat, and then spread it out in oversized bins. Sprinkle the spices over the meat, and work it in with your hands. When the sausage is thoroughly mixed, chill it for about an hour before pushing it through the sausage maker. If it is too cold, it will be too hard on the machine and the casings. If it is too soft, it will be too sticky to work with.
To get the real German taste into your sausage, add onion and caraway seeds to the boiling water or, better yet, boil the sausage in beer. Don't forget to add some spicy mustard to the table, plus plenty of dark bread. German sausage is great when smeared with mustard and wrapped in a slice of bread with sauerkraut and or with fried onions and peppers added to the mix.




Related Recipes:
Liverwurst
Bratwurst
Mettwurst
German Sausage with Apples Sauerkraut and Onion
German Sausage Soup