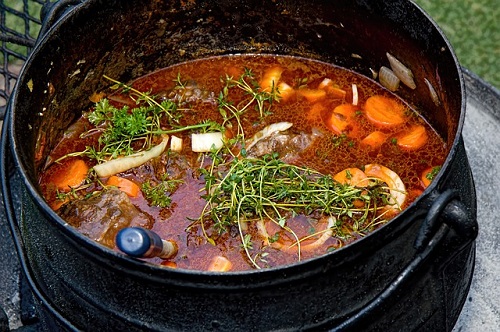 Ingredients:
500-700 g sausage (kielbasa or bratwurst types)
1 large onion, diced
2 large carrots, diced
3-4 celery ribs, sliced
1 large turnip, diced
0.5 kg ground tomatoes (or 1 can diced tomatoes)
1 tsp dry thyme
1 tsp dry basil
300 g mushrooms, sliced (optional)
1 spinach, chopped (optional)
1-2 leaves of bay laurel
1 cup dry split peas
1 cup pearl barley
salt and pepper to taste

Directions:
In a large heavy-bottomed pot, simmer peas until tender about 1 hour.
If raw, cook sausage until slightly browned, (precook covered with a little water and cook until water evaporates and then turn occasionally until browned), take cooked or kielbasa type sausage and slice into 0.5 cm to 1 cm thick slices sauté sausage slices until cut sides start to brown, add onions keep sautéing, add celery and carrot and keep sautéing.
Put all ingredients except salt and pepper into pot of soft peas.
Add enough water so that it seems to be slightly too much, but not so much that its going to be watery after everything cooks, better to add more water later than too much to start, simmer until the barley is well cooked, adding water as needed (must be thick, but still qualify as "soup") go about a 1/2 cup at a time.
Salt and pepper to taste.




Related Recipes:
German Wurst Guide
Liverwurst
Bratwurst
Mettwurst
Classical German Sausage
German Sausage with Apples Sauerkraut and Onion