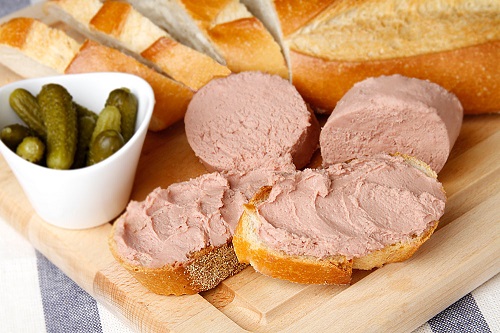 Ingredients:
1  1/2 kg 80-85% lean pork shoulder
900 g fresh (or fresh frozen) pork liver
1 medium onion, grated
2 tablespoons salt
1 tablespoon fine ground black or white pepper
1 teaspoon allspice
1 teaspoon dried marjoram
1/2 teaspoon ground sage
1 cup ice water
sausage casings (natural pork or collagen)
Directions:
Cut the liver into easily handled pieces and simmer it in about 2 cups of water. The liver should be cooked but still be slightly pink inside.
Cut the pork into 1 inch cubes.
Pass the liver and pork through the fine plate of your meat grinder at least twice. You want a very finely ground mixture.
Combine the spices in a 1 liter container and mix with the 1 cup of ice water.
Pour the spice and water combination into the ground meat and mix thoroughly for at least 2 minutes. Use your hands for mixing to assure even distribution.
Once the sausage is fully mixed, stuff it into 38-42 mm natural pork casings or comparable collagen casings.
Simmer the stuffed sausage in water just below the boil until the internal temperature reaches at least 152 degrees F (66 C).
Once your liverwurst has finished cooking, cool it to room temperature and package it. It will keep well in the refrigerator for a week and freezes nicely.




Related Recipes:
Bratwurst
Mettwurst
Classical German Sausage
German Sausage with Apples Sauerkraut and Onion
German Sausage Soup