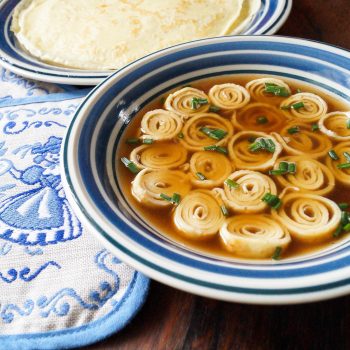 Flädlesuppe, or German pancake soup, is basically a bit like chicken noodle soup except with strips of pancake in the broth. This southern German favorite is perfect as a first course for lunch on cold days.
Serve this soup soon after assembling, because the pancakes soak up the broth and, eventually, will fall apart.
Ingredients:
1/2 cup all-purpose flour
1/3 cup milk (plus 1tbsp)
1 egg
4 cups beef stock
10 chives (around 2 per bowl)
Preparation:
Put the flour in a bowl or measuring jug, add the milk and egg and whisk until they are well combined and there are no lumps.
Brush a small-medium skillet/frying pan with a little vegetable oil and warm it over a medium heat.
Pour about 1/5 – 1/4 of the mixture into the pan (a couple spoonfuls) and immediately lift the pan from the heat so you can swirl the mixture round – tilt the pan to one side then turn it so that you form a thin layer over the bottom of the pan. Cook for a couple minutes until the edges start to curl up. Loosen the pancake from the bottom of the pan, flip it over carefully then cook another 30 seconds or so until it browns slightly on the other side.
Remove the pancake from the pan, let it sit until it is OK to handle then roll it up and set aside. Then repeat with the rest of the mixture.
Let the pancakes cool a little while you warm the stock and slice up the chives.
Once cool, cut each pancake into thin slices and put the slices, still rolled up, in the bottom of a bowl, about 1 pancake per bowl. Pour over the stock and top with some chives.