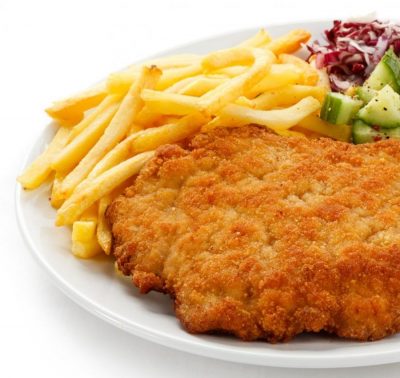 In Germany, Schnitzel is usually made of pork, although turkey, chicken and veal are also common. The pork loin is pounded to a 1 cm thickness, seasoned with salt and pepper, and then dipped into flour, egg and bread crumbs. It is usually served with French fries, mashed potatoes, or Spätzle. The dish has been extremely popular since the end of the Second World War.
Ingredients:
600 g pork loin chops, thinly cut
1 cup flour
1 cup bread crumbs, plain
2 eggs, lightly beaten
salt and pepper to taste
vegetable oil for frying
Preparation:
Pound pork with a flat side of the mallet until the meat is 1 cm thick.
Sprinkle both sides of pork with salt and pepper.
Lightly dip into flour, then egg and finally in the bread crumbs. When all pieces are coated, fry without crowding the schnitzel until golden brown. A total of three minutes is all that is required.
Remove from skillet and serve immediately.