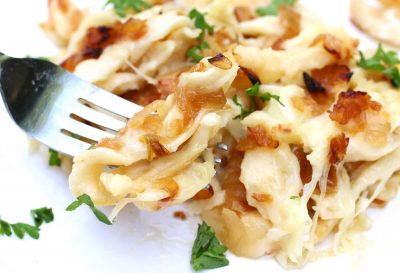 Schwäbische Käsespätzle is a quintessential Swabian comfort food dish.  Homemade Spätzle are layered with shredded Emmentaler and caramelized onions and then baked in the oven.
Ingredients:
1 batch homemade German Spätzle can be made in advance and refrigerated until ready use, then let warm to room temperature before baking. Can also use a large bag of store-bought, but homemade strongly recommended.
6 tablespoons butter
2 large onions chopped
1/2 teaspoon salt
1/2 teaspoon sugar
350 g shredded Emmentaler cheese
salt
Preparation:
Preheat the oven to 200 C.
Butter a 20×30 cm (or a little smaller) casserole dish.
Layer 1/3 of the Spätzle in the bottom of the dish followed by 1/3 of the cheese and 1/3 of the caramelized onions. Repeat, sprinkling each layer with some salt, ending with cheese and onions on top.
Bake for 10 minutes or longer until the cheese is melted and the edges are just beginning to get a little crispy.
Serve immediately.