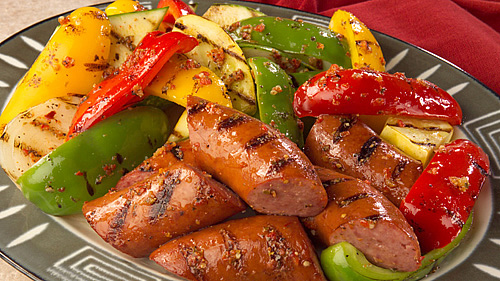 Ingredients:
4 tablespoons crème fraîche
7 oz. (200g) Quark
4 medium potatoes
2 oz. (60g) German brie-style blue cheese
(such as Bonifaz Bavaria blu)
4 small tomatoes
4 garlic cloves
2 small bell peppers
1/2 eggplant
1/2 zucchini squash
4 Bratwurst sausages
4 pork chops (2 oz. each)
2 chicken breasts (4 oz. each)
4 lamb chops (2 oz. each)
salt, pepper
parsley
chives
thyme
Preparation:
Wash the zucchini and eggplant, pat dry with a paper towel and cut them into thick slices. Peel the garlic.
Core the tomatoes, cut crosswise across the bottom and place the sliced blue cheese into the cuts.
Wash and dry the potatoes and wrap them in aluminum foil. Cut the bell peppers in half and remove the cores. Clean and finely chop the chives and parsley.
Mix the quark and the crème fraîche with the fresh herbs. Season to taste with salt and pepper.
Halve the chicken breasts diagonally.
Bake the potatoes at 400° for about 25-30 minutes. Bake the tomatoes in the oven until the cheese has melted and the tomatoes are soft.
Season the meats with freshly ground pepper and place arrange them on the grill. Cook both sides to desired texture.
Add the vegetable slices, bell peppers and garlic cloves to the grill, top them with thyme and season with salt and pepper.
Remove the baked potatoes from the oven, cut into them crosswise, gently push open and fill them with the herb-quark mixture.
Arrange all the meats and vegetables on a large decorative wooden board and serve with your favorite condiments.