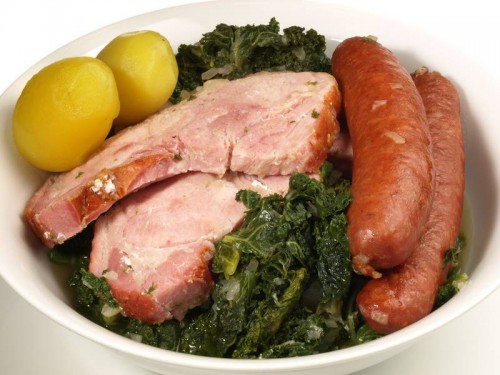 Cooked kale and sausage is a delicious winter comfort food. Germans celebrate winter with a "Grünkohlfahrt", which is a brisk hike accompanied by schnapps and a warm kale dinner afterward. Cooked kale is mixed with mustard, bacon, and sausage for a nutritious dinner.
Ingredients:
1 lb. (450 g) kale, cleaned and chopped
2 pieces of bacon, chopped, or 50 g of Bauchspeck, diced
1/2 onion, chopped
2 tsp. beef bouillon
1 tbsp. mustard
4 medium-size potatoes
pepper
various sausages, such as bratwurst, frankfurters or other
thick slice of ham or two
Directions:
Clean kale, remove the thick middle stem and chop. Blanch for 1 minute in boiling water and drain.
Brown the bacon in a pan, sauté the onion in it and add the kale. Cook for 2-3 minutes and then add water to cover. Stir in beef bouillon. Simmer for 30 minutes.
In the meantime put the potatoes in a pot with salt water and boil until soft. Remove the skin from the potatoes.

Add the mustard and stir. Place the sausages and ham on top of the kale and simmer for another 30 minutes. Pepper to taste, salt only after tasting as the meat is salty.

 S

erve with the potatoes.