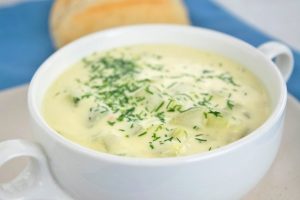 Cucumbers are not just for salads! With this warm cucumber soup you bring variety to your table. This simple recipe from Saxony-Anhalt takes so little time to prepare.
Ingredients:
2 medium cucumbers
600 g potatoes, peeled and cut into 1 cm cubes
3 cups cold water
1 1/2 teaspoons salt
1/4 teaspoon freshly ground pepper
1 cup cream
1 cup milk
1 tablespoon grated onions
1 tablespoon finely chopped dill
Preparation:
Peel cucumbers and cut in half.
Remove seed and cut cucumber into 1 cm cubes.
Cover potatoes with water, add salt and pepper and cook until done.
Pass potatoes through a sieve together with cooking liquid.
Place the puree in saucepan and fold in cream, milk, grated onions and cucumber.
Leave soup to simmer for 5 minutes. Add dill. Serve.