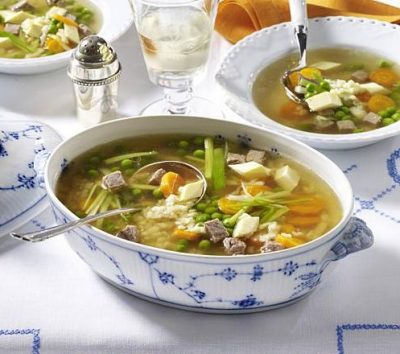 Hochzeitssuppe ("wedding soup") is a clear, German soup based on chicken broth, fortified with chicken meat, small meatballs (Fleischklößchen), asparagus heads, noodles and savory egg custard garnish (Eierstich). Sometimes raisins are added as well.
Hochzeitssuppe is eaten in Northern Germany and Southern Germany by the bride and groom and guests, traditionally after the wedding ceremony, and it is usually served as the starter on the menu at the wedding reception. It is also eaten in other regions of Germany, because the Brautsuppe ("bride's soup") served to all the guests used to be an element of every wedding. A variation is the Westfälische Hochzeitssuppe ("Westphalian Wedding Soup"), based on beef broth. As you will see, cooking this elaborate dish takes quite some time so it is made on special occasions only.
Ingredients:
Broth:
Chicken (wings + backs + necks): 500-700 g
Soup beef: 300 g
Soup bone: 1 large
Leek: 1 cut into 4 pieces
Onions: 2 large
Parsley: 1
Cloves: 8
Salt and pepper to taste
Vegetables:
Carrots: 3-4
Asparagus spears: 8 white
Leek: ½ (optional)
Cauliflower: ½ (optional)
Green peas: 1 cup
Meatballs:
Sausage meat or Thüringer Mett: 150 g
Ground beef: 150 g
1 egg
Breadcrumbs: 2-3 tbsp
The Eierstich:
Milk: 1 cup
2 eggs + 2 egg yolks
a bit of freshly grounded nutmeg
½ tsp salt
Noodles:
1  1/2 cups of plain, wide egg noodles
parsley for garnish
Preparation:
Put all ingredients except salt for the broth in a large pot and cover with 4 liters of water. Bring to a boil, lower the heat and add the salt (start with about 1 tablespoon and don't add more until the end, because the evaporation could make it too salty). Simmer over low heat for 4 hours, skimming as necessary.
Remove meat and vegetables. You may choose to eat them in another meal or discard.
Run the broth through several layers of cheesecloth to filter the fine particles and refrigerate broth. Remove any hardened fat from the top of the broth.
Preparing the Eierstich (or the Royale): heat the milk in a pan till it reaches the boiling point. In the meantime, take a bowl and add the eggs, egg yolks, nutmeg and salt – all at the same time and beat it aggressively. Now, while whisking pour the hot milk slowly into the mixture. Let the mixture settle down and then pour it though a very fine sleeve into the desired formation. This sleeve will be able to collect any granular particles of nutmeg and cooked egg. An important point to keep in mind is that the foam has to be managed well as otherwise it will form an uneven crust.Next, take a large dish and place the custard dish inside of it. Furthermore, add hot water carefully in-between the space of the two dishes. Make sure that water occupies two-thirds of the space. Now place this into the oven and bake for 20-30 minutes. After this is done, let the Eierstich settle for 20 minutes and cool down. Next, using a knife or a cookie cutter brings the Eierstich to the desired shape.
Now prepare the vegetables: each of them has to be cut into small bite-size pieces. During spring time white asparagus and carrots are preferred. The vegetables will have to be boiled till the point they remain firm enough.
For the meatballs: mix the ingredients under the meatball section. They need to be cooked for 5 to 7 minutes in boiling water.
Boil about 1 1/2 cups of plain, wide egg noodles to make 2 cups of cooked. Drain.
Place the ingredients attractively in the soup bowl. Use 4 meatballs and 4 pieces of Eierstich per bowl, about 2 tablespoons of carrot and other vegetables, and 1/4 cup of noodles.
Ladle about 1 cup of hot broth over the soup, garnish with parsley and serve.