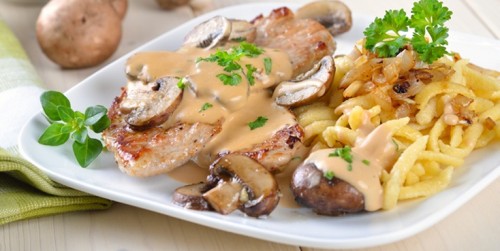 Jägerschnitzel means "hunter's cutlets" in German, and the dish was originally made with venison or wild boar backstrap, pounded thin.  Jägerschnitzel at its core is a thin cutlet of meat served with a mushroom gravy. Potatoes — boiled, mashed or in a salad — are a traditional side dish. It is a manly meal, and the only green thing allowed is, occasionally, parsley. The following is a traditional recipe for Jägerschnitzel, a popular German entree with a rich, creamy mushroom sauce.
Ingredients:
4 boneless pork chops
1/2 pound bacon, chopped
2 cups mushrooms, quartered
2 tbsp olive oil, plus more if necessary
1/2 cup flour, for dredging
2 large eggs, lightly beaten
1 cup bread crumbs
4 tbsp butter
4 tbsp flour
3 cups beef broth
salt and pepper
parsley
Directions:
To prepare the pork, cut each pork chop in half through the middle to create two thinner pieces out of each chop. Place each pork chop in a ziploc bag, and with a mallet, pound to flatten to about 1/4-inch thick. Season each piece with a bit of salt. Then dredge the pork in the flour, dip in the lightly beaten eggs, and coat in the bread crumbs. Set the breaded chops aside.
In a large pan, over medium heat, cook the bacon until it just begins to get crispy, about 5-7 minutes. Use a slotted spoon to remove the bacon, leaving the rendered fat in the pan. Set the bacon aside.
Add the mushrooms to the bacon fat remaining in the pan and cook for 5-7 minutes over medium heat until the mushrooms are tender and lightly browned. Use a slotted spoon to remove the mushrooms and set aside.
Add 1-2 tablespoons of olive oil to the bacon fat remaining in the pan, so that you have a very thin, even layer of bacon fat and oil. Add the breaded pork cutlets and cook for 2-3 minutes on each side, over medium heat, until they become lightly browned and cooked through. Cook in batches, adding more oil between each batch, if necessary. Set the cooked pork aside.
If the pan has any burned bits on the bottom, clean the pan before proceeding or use a new pan for the following steps.
Add butter and flour to the pan over medium heat. Whisk to combine. Cook for a minute or two. Then, gradually begin whisking in the beef stock. Bring to a simmer. Simmer for about 5 minutes, whisking frequently. The sauce will thicken. Season with salt and pepper, to taste.
Add the cooked pork cutlets, mushrooms, bacon, and any juices to the sauce. Gently move the pan to coat the pork in the sauce. Cook for a minute or two to reheat all components. Taste and adjust seasonings if necessary. Sprinkle with chopped parsley.