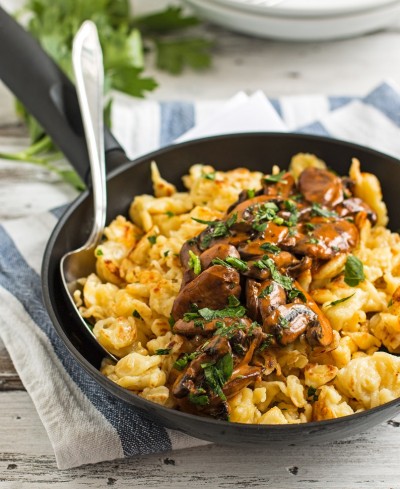 You don't need to travel to Munich to eat this traditional German dish called Jägerspätzle. This Bavarian classic is often served at the Oktoberfest and makes for a seriously exciting family dinner – at any time of the year.
Ingredients:
For the Spätzle:
2 1/2 cups flour
1/2 teaspoon salt
1/3 cup water
1/3 cup milk
3 eggs
butter for finishing
For the Sauce:
5 tablespoons butter divided
1 shallot finely chopped
1 1/2 pounds mushrooms sliced
1 ounce white wine
1 tablespoon tomato paste
2 cups broth
1/2 cup cream
a bunch of flat leaf parsley chopped
Directions:
To Make the Spätzle
In a large bowl mix together the flour and salt. Add the water, milk and eggs to a measuring cup and whisk together well.

Pour into the bowl with the flour and immediately start vigorously stirring the batter with a wooden spoon until there are no more lumps and you start seeing bubbles forming. Cover and rest for 30 minutes.

When ready to make the Spätzle bring a large pot of salted water to the boil. Heat a large frying pan over medium heat and add a knob of butter to it.

Place a coarse metal grater (or a special Spätzle maker if you own one) over the pot. Add about 1/3 cup of batter on top of the grater and gently stroke over it with the back of a spoon. Remove the grater and let the Spätzle cook until they come to the surface. Remove with a slotted spoon and drop into the hot pan. Proceed the same way with the remaining batter, adding more butter to the pan as needed.
To Make the Sauce
Heat a large frying pan over medium high heat and add three tablespoons of butter to it. Add the shallot to the pan and cook until starting to brown.

Add the mushrooms and continue to cook until softened. Add the white wine and cook until reduced. Add the broth and tomato paste, reduce to a simmer and cook until reduced to a thick sauce. Finish with the remaining two tablespoons of butter and the cream.

Serve on top of the Spätzle and garnish with chopped parsley.