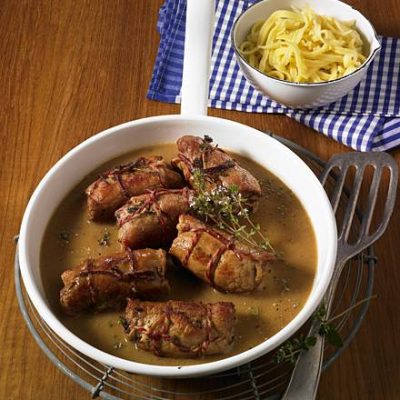 Kalbsvögerl, literally "little veal birds", are small veal roulades with herbal spicy stuffing. Perfect to enjoy with mashed potatoes or Spätzle.
Ingredients:
8 thinly cut veal steaks (100 g each)
2 spring onions
1/2 bunch of parsley
2 stems thyme and marjoram
1 (about 125 g) coarse, uncooked bratwurst
1 tbsp flour
1 bunch of soup vegetables
3 tablespoons butter
200 ml veal stock (1 glass)
100 ml of dry white wine
2 tablespoons whipped cream
1 knife tip of grated lemon zest
kitchen string
salt
pepper
Preparation:
Wash the steaks, dab dry, place on a board and knock a little flatter. Season with salt and pepper. Wash the spring onions, clean and cut into small pieces. Wash herbs, shake dry, peel off leaves and finely chop.
Squeeze the sausage out of the skin into a bowl. Mix with spring onions and herbs and spread evenly on the schnitzel. Roll up the flattened steaks and tie them up with kitchen string. Turn the rolls into flour, tap off the excess flour.
Clean, wash and dice the soup vegetables. Heat the frying pan and add butter. Roast the rolls on medium heat for about 10 minutes, remove. Add the vegetables to the frying fat and sauté for about 5 minutes, stirring.
Add the stock and the wine, put the rolls back in the pan and cover, cook for about 45 minutes on a low heat. Remove Kalbsvögerl from the sauce. Pass the sauce through a sieve, heat and stir in the cream.
Season the sauce with lemon zest, salt and pepper. Heat the rolls in the sauce again briefly. Garnish with thyme. Enjoy!