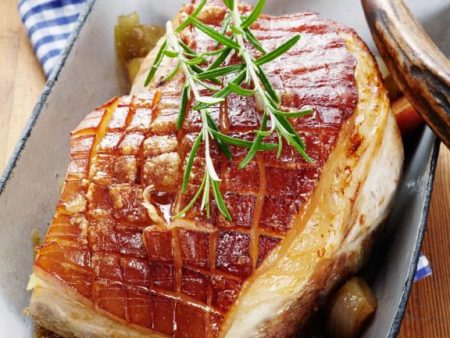 Pork roast is the staple of German cuisine. If the skin and the underlying fat is included in the cut, it is  called Krustenbraten, where the skin is made into a crispy crust.
The roast is served with vegetables of the season, a salad and dumplings (bread or potato) or red cabbage.
Ingredients:
1.5 kg pork shoulder with rind
2 carrots
2 onions
1 clove garlic
salt, pepper, nutmeg, caraway seeds to taste
rosemary sprigs for garnish
Preparation:
Preheat oven to 200° C.
Prepare the roast by first cutting a criss-cross pattern into the rind. If the rind is too soft to cut, place the meat in the freezer for 10 minutes.  This hardens the rind enough to cut the pattern.  Season the meat with salt, pepper, and caraway seeds.
Wash and peel the carrots and chop them into small cubes. Peel the onions and garlic and chop them up into small chunks. Place all the vegetables into the bottom of a roasting pan. Place the meat on top of the vegetables, rind side down.  Add 2 cups of water.
It's important that during the first part of baking the rind remain moist. Only at the end of the baking period is the roast turned around, the oven temperature is increased, and the rind is allowed to get crispy.  This ensures that the rind doesn't get gooey and tough.  But, be sure to keep an eye on your roast. With the high oven temperature, the rind can burn very quickly.
Roast the pork for 1 hour in the oven. At this point, make sure that there is still liquid in the roasting pan.  If not, add a little more water. Reduce heat to 180° C and continue roasting the meat for another 1 1/2 hours.
At this point, turn the roast over so that the rind is up and out of the liquid. Turn up the heat to 230° C.  Bake uncovered an extra 5 to 10 minutes or until the rind is crispy and brown (but not charred).
Remove the roast from the pan. Keep it warm but do not cover it.  With a little extra water, loosen the pan drippings and pour this through a sieve into a small sauce pan. Season the gravy with salt and pepper to taste.
To slice the roast, turn it rind-side down for easier cutting.Tip: Krustenbraten should be eaten immediately, otherwise the rind begins to absorb liquid and salt from the meat, softening it.