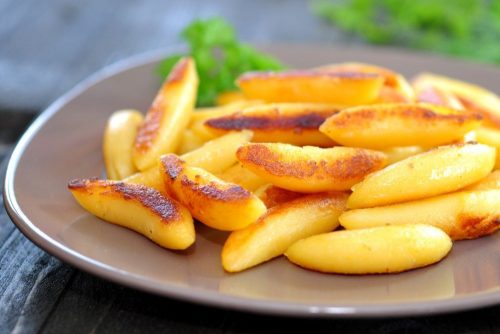 Schupfnudeln are not pasta, but potato finger-shaped dumplings. This delicacy from Southern Germany, when crispy fried, is the perfect accompaniment to sauerkraut, red cabbage, turkey, duck or pork.
Because few ingredients are required, it is easy to prepare them from scratch. Try to find starchy potatoes, as they are the best choice for this recipe. Due to their high amount of starch, they can be processed easily with a potato ricer, and hold together perfectly when formed into dumplings.
Ingredients:
500 g potatoes
2 eggs
1 cup all-purpose flour
salt and fresh pepper
1 pinch nutmeg
1/4 cup butter
Preparation:
Wash the potatoes, and cook in simmering water until they are soft. Peel them while they're still warm and mash or press through a potato ricer. Set aside to cool.
Once cooled, knead the egg and flour into the potatoes. Season with salt and nutmeg, and form into a long, thin roll.
Cut into 2 cm pieces and use your hands to form bite-sized, finger-shaped dumplings by rolling them with your palms.
Cook them in lightly boiling salted water until they come to the top. Take out with a skimmer, and leave to cool a bit.
Melt the butter in a pan. Add the dumplings and sauté for 5-10 minutes until golden brown.
Serve immediately.
Related Articles:
Brägele – Fried Potatoes
Kartoffelpuffer (German Potato Pancakes)
Kartoffelklöße (German Potato Dumplings)
German-Style Fried Potatoes (Bratkartoffeln)
Crispy German Potato Pancakes (Kartoffelpuffer)