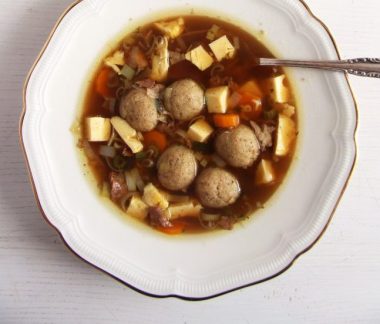 Typical German beef soup with bone marrow dumplings, vegetables, noodles and egg custard, so comforting and delicious!
Ingredients:
2 large bread rolls
2 1⁄2 cups bread crumbs
1⁄2 cup finely chopped parsley
2 eggs
freshly grated nutmeg, to taste
Kosher salt and freshly ground black pepper, to taste
0.5 kg beef marrow bones
10 cups beef stock
1 small carrot, peeled and finely chopped
1 small leek, white and light green parts only, finely chopped
For the egg custard:
4 eggs
120 ml/ ½ cup milk
½ teaspoon salt
a pinch of nutmeg
Preparation:
Make the custard: mix the eggs, milk, salt and nutmeg very well. Pour the mixture in a freezer bag, knot the bag very tightly. Bring a medium pot of water to a boil, lower the heat, place the bag with the eggs in the pot and simmer gently for about 15-20 minutes, turning the bag a few times in between, until the eggs are completely set. Take out of the water, let cool for a while, remove the bag, slice the eggs thickly, then chop them into small squares or diamonds. Add to the soup during the last cooking minutes.
Make the dumplings: place rolls in a bowl and pour warm water over them and let sit until soft, about 30 minutes. Drain and squeeze completely dry. Using your fingers, crumble rolls into a medium bowl. Add bread crumbs, 6 tbsp. parsley, eggs, nutmeg, and salt and pepper; set aside.
Using a small spoon or butter knife, scoop marrow from bones into a small saucepan; heat over medium heat until melted. Pour into bowl with rolls and mix until dough forms. Shape into about thirty 1-oz. balls; set aside.
Mix stock, carrots and leek in a 6-qt. saucepan, season with salt and pepper. Bring to a boil over medium-high heat; reduce heat to medium, and add dumplings. Cook, stirring occasionally, until dumplings are cooked through, about 3 minutes.
To serve, ladle soup and dumplings into bowls, and garnish with remaining parsley.