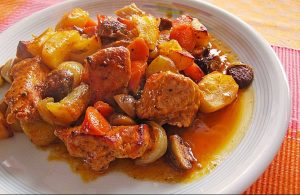 Räuberfleisch is easy and quick to prepare, yet far from fast food. Guten Appetit!
Ingredients:
2 paprika
8 champignons
1 onions
8 pickled cucumbers
4 tbsp tomato paste
800 g pork gulasch
pepper
ground paprika
4 garlic
Preparation:
Chop the peppers, mushrooms, gherkins and onions.

Lay out a deep plate with aluminum foil and spread the tomato paste on it.

Spread the pork goulash on it

.

Add onions, peppers, cucumbers and mushrooms

.

Season with pepper and paprika powder

. Chop garlic cloves and add.
Stew in the oven for one hour at 160 degrees Celsius.