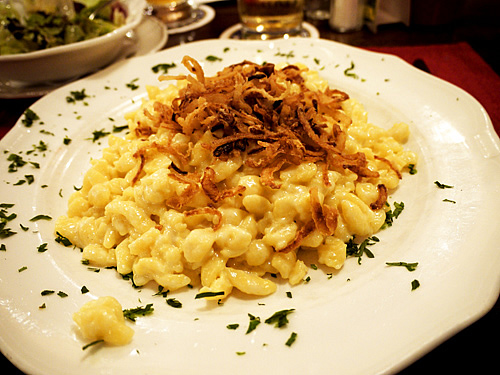 Ingredients:
3 sliced onions
1 tbsp vegetable oil
4 1/2 cups all purpose flour
1 tbsp salt
5 large eggs
1 3/4 – 2 cups water
1 (14.5 oz) can of Sauerkraut (don't drain, keep juice)
1 tbsp olive oil or butter
1 package of shredded mozzarella cheese
Method:
Preheat the oven to 450 F (230 C). Fill a large pot with water, add vegetable oil, some salt, and bring to a boil. Place flour in a large bowl and make a well in the middle. Add salt, eggs, and water. Beat the dough until smooth and bubbly, until thick.
Put the dough on a cutting board and scrape it off bit by bit into the boiling water using a knife. If the dough is too sticky, wet the knife in the boiling water and try again.
Once the Spätzle float to the top, drain. Put a layer of Spätzle in a casserole dish, add a layer of sauerkraut and cheese topped with salt and pepper. Repeat layer – Spätzle, Sauerkraut, cheese, salt and pepper.
In a pan, heat olive oil and add sliced onion until brown.
Now back to the noodles. You'll make 2-3 layers depending on how large the casserole dish is. Once onions are done cooking, spread on the top of the casserole dish and place it in the oven to cook for 20 minutes or until warm and cheese is melted.
For an extra kick, if you're a serious Sauerkraut lover, use the juice from the can to moisten before placing in the oven.
Related articles:
Easy Homemade German Spaetzle Recipe
Mushroom Spätzle Pan