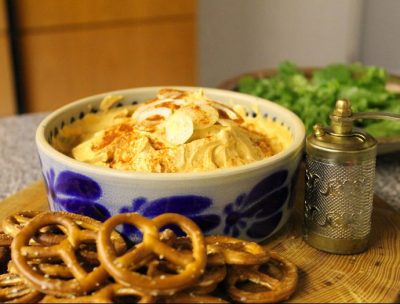 Spundekäs is a Mainz specialty. This is a smooth cheese paste, partly made from quark and seasoned with pepper, salt and sweet paprika. When you order Spundekäs, it will normally come with chopped onion sprinkled on top and with crackers and mini pretzels on the side for dipping.
The perfect match is Riesling or Müller-Thurgau wine, from the surrounding Rheinhessen region. Another cheese that is a bit more challenging is Handkäse, which is often marinated in vinegar and has a powerful aroma.
Ingredients:
½ cup (120 g) cream cheese, at room temperature
½ cup (120 g) sour cream
½ cup (120 g) quark or fromage blanc, or drained Greek yogurt
1 teaspoon onion powder, to taste
½ teaspoon garlic powder, to taste
2 teaspoons paprika
a pinch of smoked paprika (optional)
salt and freshly milled pepper to taste
Preparation:
Mix all ingredients in a bowl with a fork until smooth and well combined and no white specs remain.
Refrigerate for several hours before serving.