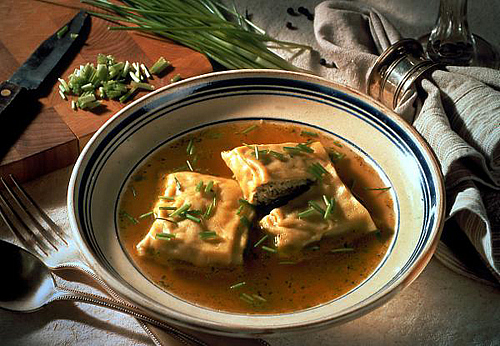 Swabian Meat Pockets (Maultaschen) are a typically Swabian specialty – pockets of noodle dough prepared and filled in various ways, e.g. with spinach, onions, eggs, soaked bread, and minced meat.
On 22 October 2009, the European Union recognized Maultaschen (Schwäbische Maultaschen or Schwäbische Suppenmaultaschen) as a "regional specialty" and remarked that the dish is significant to the cultural heritage of Baden-Württemberg.
Ingredients:
DOUGH:
500 g flour
4 eggs
water (amount depends on size of eggs)
FILLING:
500 g spinach, washed (coarse stems removed)
2 onions, finely chopped
butter
1 bunch parsley, finely chopped
4 day-old white sandwich rolls, softened in water
250 g ground meat, pork and/or beef
250 g finely chopped ham or schinkenwurst, when available
2 eggs, beaten
salt, pepper, nutmeg to taste
1-2 tbsp. unseasoned dry breadcrumbs
Directions:
Sift the flour into a bowl and make a large indention in the center. Break the eggs into the center and slowly mix the eggs into the flour with a fork, beginning in the middle and moving outwards. Add water as needed (about one-half egg shell of water per egg) until a solid dough has formed. Remove the dough from the bowl and knead it on a well-floured surface until it is firm and smooth. Form into a ball, cover with a cloth, and let rest for 30 minutes.
To make the filling, begin by blanching the spinach. To do this, you'll place the spinach in boiling salted water for about 30-60 seconds and then stop the cooking process by placing the spinach in an ice bath. Take the spinach, which should still have a vibrant green color, and squeeze the remaining water out of it before chopping it roughly.
Melt a tablespoon of butter in a large frying pan and sauté the chopped onion until soft. Take the day-old rolls from the water in which they've been soaking and squeeze out the remaining water. Add these together with the chopped parsley to the onions and mix until blended.
Sauté the ground meat in a separate pan with a bit of butter until the meat is fully cooked. In a large bowl, combine the cooked meat with the chopped ham or schinkenwurst, onion-bread mixture and the eggs. Knead the mixture until well combined and add salt, pepper, and nutmeg to taste. If necessary, add breadcrumbs to absorb excess moisture.
Divide the dough into 6 parts and roll each as thin as possible. Place about a tablespoon of filling in the dough at regular intervals, leaving some space between each spoonful to create little pockets. Lay a second thin layer of dough on top of the first, and pressing and sealing the edges between each bit of filling. Cut the dough to form little pockets.
These can now be cooked in simmering water for approx. 10 – 15 minutes, according to their size, taking care not to overcook them or they may not hold together in the final preparations. They may now be added to a broth soup or sautéed in butter with some chopped onion. The sautéed Maultaschen pair nicely with potato salad.