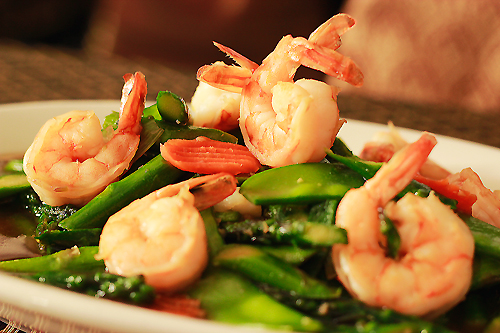 Ingredients:
1/2 kg white asparagus (you can use green)
1 tsp salt
2 tsp sugar
4 – 5 slices of lemon
150 g arugula
400 g kitchen-ready, large shrimp, 20 count to a pound
1 – 2 tbsp. oil
2 tbsp chopped lemon balm leaves plus several for garnish
3 tbsp white balsamic vinegar
1 tsp honey
4 tbsp oil
salt and pepper to taste
Preparation:
Peel the white asparagus (green asparagus does not have to be peeled), cut off the woody end and cut into 7 cm pieces. cut each piece in half or quarters, lengthwise. Alternatively, cut off the tops, slice in thin strips like ribbons and cook as follows.
Bring a pot of water to a boil and add the salt, sugar and lemon slices. Reduce heat to a simmer and add the asparagus for 3 – 6 minutes, or until they are soft enough for your taste. Remove from the water, reserving several tablespoons of water, and cool them in a cold water bath. Remove from the cold water and drain well.
While the asparagus is cooking, wash and dry the arugula or lettuce and remove any hard stems.
Cook the shrimp in an oiled pan until pink, two to three minutes.
Make the vinaigrette by mixing 2 tablespoons of chopped lemon balm, 3 tablespoons of the asparagus' cooking liquid, the balsamic vinegar, honey and oil with a whisk until thick. Season to taste with salt and pepper and perhaps a bit more honey.
Arrange the arugula on plates, add the asparagus and several shrimp. Drizzle the dressing over all. Garnish with lemon balm and serve with baguette.