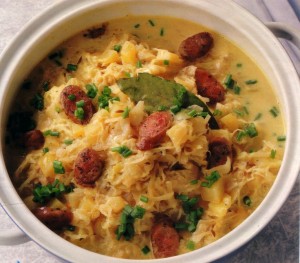 Ingredients:

500 g potatoes
2 onions
40 g butter
1 can Sauerkraut
3/4 l broth (instant)
1 bay leave
8 Thuringia Rostbratwuerstchen or normal Bratwurst or Knackwurst
100 ml heavy cream
1 tbsp mustard
salt, pepper, caraway seeds
1-2 tsp sugar
1 bunch chives
Cooking:

Peel the potatoes, cut them into cubes.
Peel and cut the onions into small pieces.
Heat the butter, saute potatoes and onions for about 10 minutes.
Get  the Sauerkraut out of the pan and loose it up, put it into the pan together with the broth; let it boil on low-medium heat for 10 minutes.
Fry the Sausages in an extra pan in hot butter oil, take them out of the pan and cut them into slanted slices, put them back into the pan and fry them a bit more.
Mix the cream with the mustard and add to the stew: spice with salt, pepper, caraway seeds.
Add the sausages, cut chives and sprinkle over the stew.