Marzipankartoffeln are baby potatoes made from marzipan and are traditionally given to friends in little bags or placed on the goodie plate at Christmastime. These traditional German Christmas treats are quick and easy to make and irresistible!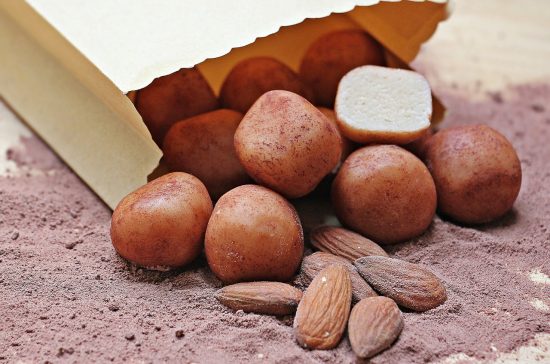 Ingredients:
2 cups ground almonds
2 1/4 cups confectioners' sugar
1 teaspoon rose water *
1 large egg white
fine Dutch cocoa (such as Droste Cocoa)
Preparation
Mix almonds, confectioners' sugar, rose water and egg in a blender or food processor until very smooth. Wrap in a damp towel and allow to rest overnight.
Take marzipan and roll into small balls ( 2 cm or 3 cm in diameter). Place cocoa, about 1/2 cup, into a small bag and toss a marzipan ball into bag. Close bag and gently roll around with your hands until the ball is covered in a light dusting of cocoa. The cocoa will cause the balls to look remarkably like baby potatoes!
* Rose water is a clear liquid, distilled from fresh rose petals. To make rose water: Collect the petals from 3-4 full rose heads that have not been treated with pesticides. Place in a saucepan with 1 pint of water. Heat gently until the petals are transparent, do not boil. Cool mixture, strain, pressing liquid out of petals. Refrigerate up to one week.
Related articles:
Lübeck – The City of Marzipan and Sea Ports
Marzipan